Blog > Pests & Christmas Decorations: What Everyone In Moline Should Know Before Decking The Halls
Pests & Christmas Decorations: What Everyone In Moline Should Know Before Decking The Halls
December 2, 2020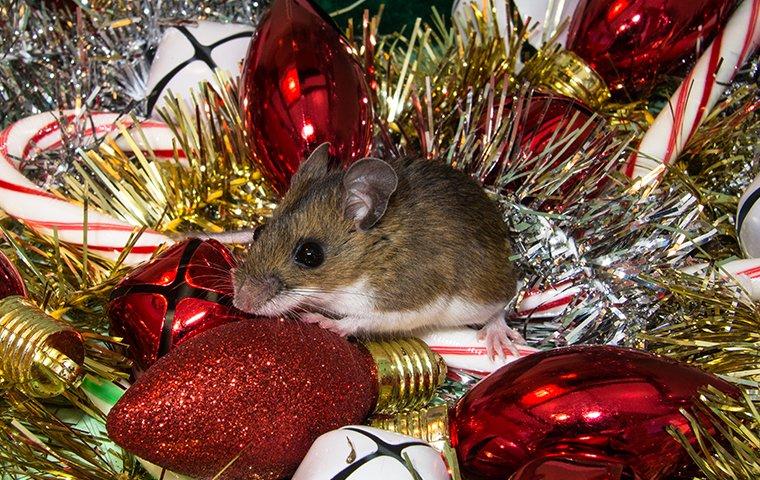 Christmas is almost here, and you know what that means. It means eggnog and reindeer shaped cookies, mistletoe and holiday cheer, hot apple cider, and, if we are lucky, a few blankets of snow. If you are as excited for Christmas as we are and are looking for some ways to make the holiday go by smoothly, there is something you need to know. Your stored away decorations could be holding more than just memories and pretty lights; they could also be housing pests. To make sure your holiday isn't ruined by pest invaders, here are a few things you should know.
Pests That Love Stowing Away In Boxes
Boxes of stored items are filled with comfortable cracks and crannies. For pests like spiders, silverfish, and stink bugs, a cardboard box of Christmas supplies in a temperature-controlled home or garage is the perfect place to spend a cold winter. Of course, they aren't planning on you picking up and unloading their home into your living room.
If your stored boxes are infested with overwintering pests, you could bring problems into your home when you decorate this Christmas. Even if you don't pull out the Christmas decorations this year, those hidden pests will still breed and potentially release thousands of their babies in your home come spring.
Christmas Tree: More Like Rodent Habitat
Do you buy your Christmas tree off a lot with hundreds of others, or do you like to go out and cut down your own? If you enjoy picking out the perfect tree from a tree farm and cutting it down yourself, you run the risk of accidentally bringing home rodents or spiders. These pests love to hide within the branches of Christmas trees and are not always smart enough to get off after their hiding spot is cut down. To prevent this, after you cut your tree down, grab it by the middle, lift it into the air, and hit its stump into the ground. This is what professionals call "tamping." Doing this a few times is not only fun but will make sure to knock out any undesirable pests.
How To Prevent Christmas Pests
The best way to stop Christmas pests is to put in place prevention before they get inside. We recommend starting early fall to ensure your Moline home is protected as the weather cools down, and pests start to look indoors to find shelter. Here are some great prevention tips for you to use.
Seal gaps and cracks in your home's exterior using a caulking gun.

Make sure your window/door screens are in good condition.

Repair or replace damaged or improperly installed weatherstripping and door sweeps.

Store Christmas decorations inside large sealable plastic totes.

Keep your home clean and free of clutter.

Store leftover foods inside airtight containers.

Address moisture issues in and around your home.
The Best Way To Handle Christmas Pests
Before you pull out the Christmas decorations this year, have your home treated for pests. For top tier services, trust the professionals at Quik-Kill Pest Eliminators. Our team would be happy to thoroughly inspect your home and treat for any pests they find. They will even put in place effective pest control measures to ensure your home stays pest-free throughout the holidays. With multiple plans to choose from, you will have no problem finding an option that best fits the needs of your home and your budget.
Reach out by phone or through our websites with any questions you have or to schedule an appointment for your Moline home and property.