All The Ways Fleas Get Into Bettendorf Homes
September 10, 2021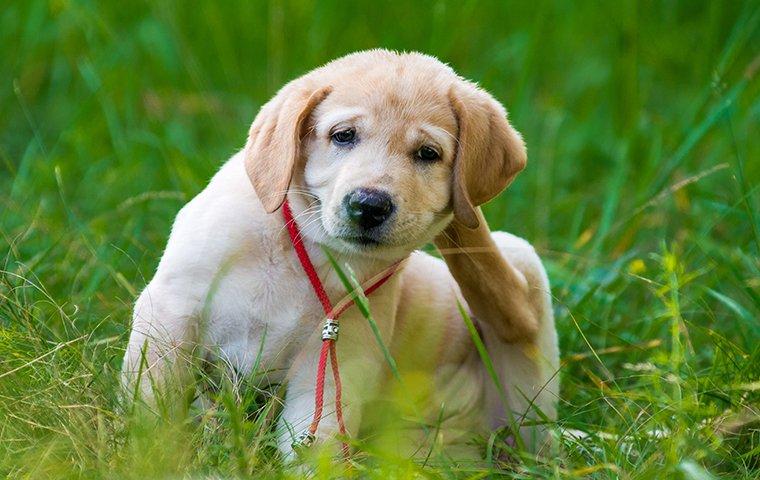 Flea 101
Fleas are wingless creatures that appear in shades of red or brown and have six legs, which are powerful enough to allow them to jump onto their hosts. They consume the blood of mammals including house pets, humans, rodents, and many others. As they travel among hosts, fleas might carry dangerous conditions.
Among dogs, flea allergy dermatitis (FAD) may develop from an allergic response to the saliva of the flea. Some of the conditions that result include significant skin irritation, loss of hair (fur), or infection. Other health concerns associated with fleas include tapeworm, murine typhus, anemia, and more. Typically, flea-infested pets will begin constantly scratching. Humans might notice small bite marks across their backs, arms, and legs.
Why Do I Have A Problem With Fleas?
Fleas are often brought indoors within the fur of dogs or cats, on people's clothes or shoes, or within used furniture or upholstered items. Fleas also are often introduced by rodents that gain access to the interior of a property. Common indoor hiding places include bedding, carpet, and any crevices near the baseboards and floors.
Tips For Preventing Fleas
Rather than simply hope you don't get infested, there are a few things you can do to help avoid getting fleas in your home to begin with:
Dogs, cats, and other pets should receive preventative treatment for fleas and ticks from a licensed veterinarian.

Pet beds should be regularly washed and pets kept off of upholstered furnishings and beds.

Pets should be regularly brushed and bathed and periodically be checked for fleas.

Apply a durable caulk or sealant to fill any cracks near the foundation or gaps around doors and windows that may allow rodents to enter that are carrying fleas.

Regularly vacuum carpets and rugs and wash bedding and similar cloth materials.
The Importance Of Consulting With A Professional Exterminator
Some property owners make the mistake of attempting to eradicate serious pest invasions on their own, often by purchasing overhyped treatment options sold online and by local home improvement stores. In many cases, these efforts are not successful and the infestation and resulting frustration remain. The best course of action in these situations is to speak with an experienced pest controller that will get the job done right.
Quik-Kill Pest Eliminators is proud to have recently become QualityPro Certified, which places our organization among the leaders in the field of professional pest control. Obtaining this national credential also affords us access to the latest resources for education and training in the industry today. Our staff places a high priority on safety; therefore, many of the treatment options we use to ensure the protection of our customers, their pets, and the ecosystem.
Local Provider Of Pest Control Solutions
Did you know that Quik-Kill Pest Eliminators now maintains a retail outlet in our main office in Streator that is stocked with a tremendous variety of pest control products? This store represents another example of what makes our company a true full-service provider of solutions for home and business owners in Bettendorf that are struggling with pest-related concerns.
Our team of experienced technicians has the knowledge and tools to banish invasions involving rodents, bed bugs, termites, and a host of other troublesome pests and we stand behind the quality of our work with a satisfaction guarantee. One of our experts will visit the premises to conduct a thorough interior and exterior property inspection to assess the nature and the extent of the problem. Contact us today to schedule an appointment.