How Bird Control Works
January 25, 2018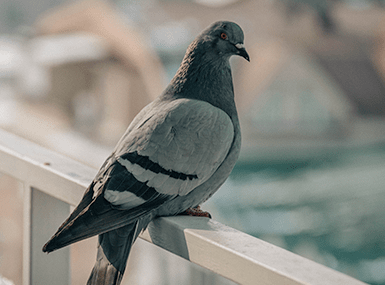 It's always wonderful to watch the birds flying around so freely. Perhaps you've enjoyed dropping some bread off at the local pond for the ducks. As fun as it all may be, some birds can be a real danger when you're looking to maintain a business, or when they choose your property to settle upon. Next time you decide to feed the birds, remember that you're only attracting them to your location, where the damage that they cause might affect you, your customers, or the business operation you hope to have run smoothly.
Though there are lots of different birds around, some of the more common problem birds are pigeons, sparrows, and starlings. Often while looking for a nice place to call home and set up their nest, birds cause substantial damage to buildings, outdoor spaces and furniture, and machinery by speeding up deterioration with their droppings. As bird droppings become more extensive and the problem persists, the threat of slips and the spread of disease becomes greater. Problem birds have also been linked to many different kinds of bacteria, fungal agents, and parasites.
At Quik-Kill Pest Eliminators, we have the expertise needed to solve your bird problems. Bird abatement specialists will take steps to remove birds, clean up after birds, and effectively control future bird infestations during their time at your home. They will use a variety of techniques, specific to your infestation, to reassure you that birds are no longer a problem. Here are a few:
Anti-Roost Systems: Deter birds through the use of humane bird spikes, spring wire, coils, electric shock and anti-roost gels.

Netting Installation: Useful for large, open areas where anti-roost systems are ineffective.

Bird Aversion Fogging: Causes problem birds to vacate high problem areas

Bird Trapping: The use of humane traps to capture and remove live birds. Traps are available in many sizes to assure that all bird species can be contained.

Specialized Cleaning And Sanitation: Targeted cleaning and sanitizing of areas where pest birds had been nesting and roosting.

Nest Depredation: Available for Canadian geese and seagulls, nest depredation does require a permit.
Birds can become a liability to your business when they get too close. Containing the problem, getting rid of it, and preventing it in the future is key to a business' success. Having a bird control plan in Moline not only protects against the unnecessary waste of time and money, but it also protects your reputation. Birds around your business may be pleasant to see, but in making your facility their home, they can cause more trouble than they're worth. In any case, contact us here at Quik-Kill Pest Eliminators if you are in our service area, to eliminate the risk birds pose on your property so that you can enjoy seeing birds fly over your property without worrying what they're up to up there.