Blog > How Spiders Could Have Gotten Into Your Rock Island Home
How Spiders Could Have Gotten Into Your Rock Island Home
February 19, 2019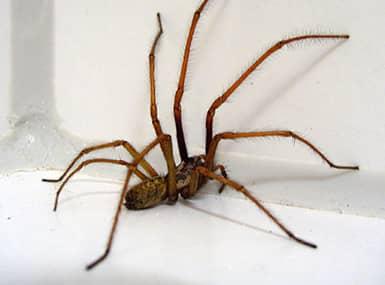 If you're just now noticing an influx of spiders inside your Illinois home, know that you are not alone, many people experiencing spider infestations this season. As much as we would like to blame the recent rise in the population of spiders inside our homes on the dropping outdoor temperatures, the cold is actually not why you're seeing spiders in your beautiful Illinois home. If not the cold, then what? After all, the cold is pushing many other pests indoors, why isn't that the case for spiders as well?
Unlike many pests that invade during fall and winter to find shelter from the cold temperatures and howling winds, spiders possess a type of antifreeze throughout the tissue of their bodies, which makes them freeze resistant, even in some of the coldest snowfalls. So what brings them inside? Well, some spiders come indoors as they search for their declining source of food, namely insects. As we addressed earlier, insects will take every opportunity they have to enter homes when the weather gets colder, because they will die off if they remain outside when the climate drops. Therefore, spiders, with all their main food sources going indoors, must also in order to catch their prey.
Common entry points for spiders looking to invade include:
Torn window and door screens
Doors without a door sweep
Vents and utility openings
Cracks in the foundation of your home
Open or improperly installed windows
Gaps and crevices in your exterior walls
To be accurate, most spiders that you are now seeing inside your Illinois home were probably there before the weather turned cold, and only a few are now entering to follow their food source. It's been proven that if you're seeing spiders in your home, they have most likely lived there for a long time. You just haven't seen them because they prefer to avoid us. Spiders that come out into the open are often only looking for a mate or a place with more insect activity to set up a new web.
Some places that typically get more spider activity in winter and throughout the year include:
Attic spaces and storage closets
Garages (especially cluttered ones)
Outdoor sheds
Cabinets and drawers
High corners (such as above shelves, TVs, and other high furniture)
Basements
If you are one of the many unfortunate homeowners facing a spider infestation this year, contact Quik-Kill Pest Eliminators right away to receive all of the benefits that come with a year-round pest control plan in Rock Island and the Quad City area. No more spiders in your home means more peace of mind knowing that your home is protected.