Blog > Why Protect Your Moline Home From Termites This Spring
Why Protect Your Moline Home From Termites This Spring
February 24, 2019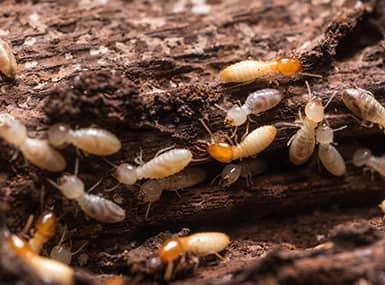 Why Protect Your Moline Home From Termites This Spring
Spring is on its way and with it comes spring pests.
Termites
are a threat year-round, but spring is the time of year when new colonies are formed which is why it's the perfect time to get your home protected with Sentricon.
The Life Cycle Of Termites
Termites remain active
all year long
. Outdoor colonies tend to slow down in the cold winter months, but they never reach the level of hibernation. Indoor colonies stay as active in the winter as they are in the summer due to the climate-controlled environment that homes provide.
In the spring when the weather warms up, swarmer termites come out of hiding. These termites are the reproductive members of the colony. Unlike the other members, they have wings. They come out in the open in a big group in order to mate. Once they've accomplished their mission, they'll shed their wings then form new colonies. The number of mating termites and the number of new colonies formed can vary greatly from colony to colony, but one thing is certain: If you see termite swarmers in or around your house, you have a problem that needs attention.
Why You Don't Want Termites On Your Property
While seeing a termite swarm outside might not seem like a big deal, if it's on your property, you'll want to take action. If there are termites anywhere near your house, it's only a matter of time before they get into your house.
If you see a termite swarm inside your home in the
Quad City
area, it means you already have an established termite colony inside that needs immediate eradication.
Why Get Your Home Protected With Sentricon This Spring
Whether you have termites on your property or not, the best thing you can do for the safety of your house is to have the Sentricon System With Always Active installed. Sentricon gets installed around the perimeter of your home's foundation and works 24/7 to detect and eliminate termites and their colonies. The bait stations are scientifically proven to attract termites even more than wood. The termites then bring the bait back to their colony, effectively eliminating all the termites there.
Termites cause over $5 billion in damage to homes in the US each year, but they're completely preventable. Give
Quik-Kill Pest Eliminators a call
for a free termite inspection and to learn more about the Sentricon System. Our
pest control experts in Moline
can determine whether or not you have a termite problem, then discuss your options to determine a plan that works best for you. We're standing by to help and are looking forward to being of service.