Are You Ready For Termite Awareness Week?
March 12, 2018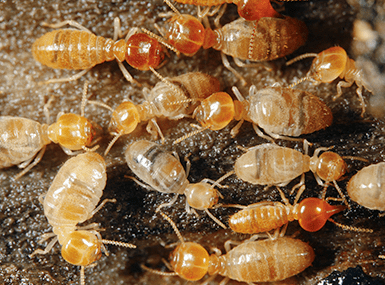 National Termite Awareness Week is March 11-17, 2018 and is geared toward educating you, the public, on everything you need to know about termites in your home or business. You can look for a plethora of information flooding the internet during that time, but to get you started here are some basic facts about termites.
Termites can be found almost everywhere in the United States and cost homeowners and business owners over $5 billion dollars in property damage annually. They are serious wood-damaging pests that are known as "silent destroyers" because they can chew through the wood, floors, walls, and other wood products quietly and can easily avoid detection.
There are around 2,000 species, but the subterranean strain of termites are considered the most common and most destructive. Subterranean termites live underground in colonies that hold as many as 2 million members. They use their scissor-like jaws to eat wood constantly, all day and all night. An early sign of termite activity is when they swarm in early spring, and you may confuse them with flying ants. Other signs of a termite infestation are soft decaying wood around your home, mud tubes on walls and foundations, and blistering on wood surfaces like floors and walls.
So, what can you do to prevent termites from infesting your business, home or property? Probably the best preventative step is water and moisture elimination. There are several ways to do that, and one way is to divert water away from your structure. Other ways to achieve that is to reduce humidity and increase proper ventilation indoors. Outdoors trim back vegetation so that there is proper air flow and vents are not blocked, remove junk piles from the yard and property that hold moisture, keep at least a 2' gap between soil and your structure, and inspect your property for termites on a regular basis.
The #1 most effective method of elimination and prevention of termites is to call on the professionals at Quik-Kill Pest Eliminators. We are your best defense against termites and can customize a plan of treatment specifically for your home or business.
We start with a thorough inspection inside and out to search for signs of termites and to identify areas that termites will find appealing. We will then develop a specialized treatment plan that will work for you based on the structure and nature of your home or business.
Some of our options that include extermination and prevention are:
Sentricon® System with Always Active™ termite baiting system that eliminates termites and gives you continuous termite monitoring to prevent new termite activity

Termidor liquid defense that is effective in controlling subterranean termites with an odorless, tasteless product that the termites cannot avoid

Home Guardian SM Service in Bettendorf and the Quad-Cities eliminates and prevents termites along with other common household pests
Needless to say, whatever the type and size of your structure, Quik-Kill Pest Eliminators gives you effective solutions for all of your termite problems to give you peace of mind. Contact us today for more information.