Blog > Streator's Easy & Effective Guide To Yellowjacket Control
Streator's Easy & Effective Guide To Yellowjacket Control
August 27, 2020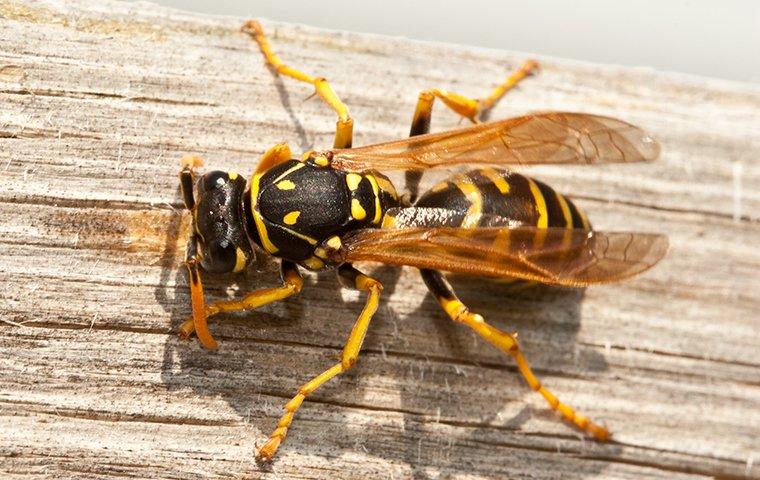 With a size just as short as their tempers, these flying insects reign supreme as the ultimate deliverer of painful backyard stings.

Unpredictable and highly aggressive, the yellowjacket is arguably the best recognized stinging insect in Streator. Bright yellow and black in appearance, yellowjackets boast two short antennae and a pair of dark-colored wings. Yellowjacket nests are often constructed below ground level, although some above-ground nests are not unheard of in attics and rooftops. Large colonies and even larger appetites keep the insects consistently on the lookout for food, including the snacks brought to parks, picnics, and backyard barbecues.

Of course, many homeowners are very aware of just how dangerous yellowjackets can be. As the most aggressive species out of all our local wasps, yellowjackets are capable of stinging and injecting their potent venom multiple times. The pheromones present in each sting act as a signal to other wasps, calling the hive for help. This means that yellowjackets are capable of creating serious medical concerns for allergic and non-allergic victims alike.
Ways To Make Your Streator Lawn Less Attractive To Yellowjackets
The following steps describe some ways to make the yard less attractive to yellowjackets, especially those looking to nest.
Yellowjackets are fans of sugary, sticky or fatty foods, and protein-rich meals such as scrap meat. Ensure that you are throwing away all leftover or uneaten food, especially while outdoors.
Pick up fallen or rotten fruit from the bases of fruit trees. This source of free food is likely to attract great numbers of yellowjackets.
Do not allow shrubbery or vegetation to grow out of hand. Prune all bushes and trees to a manageable size, and keep the grass trimmed to a healthy length.
If you think that stinging insect activity has encroached your lawn, preventative techniques will no longer be enough to keep them from nesting. Instead of relying on chance to keep you safe, schedule a complimentary inspection through Quik-Kill Pest Eliminators to get a handle on the situation immediately.
Yellowjacket Racket? Calm Them Down With Quik-Kill Pest Eliminators
As you probably already know, trying to get rid of both yellowjackets and their nests can be a dangerous affair. Even if nests appear abandoned or inactive, the threat of a yellowjacket attack is still very high. Long clothing, insecticides, and other forms of protection may help to cut down on the total number of pests in your home, but it will not eliminate the entire hive. With painful stings, swarms of colony members, and potential hospitalizations in their wake, homeowners should never attempt to control these dangerous creatures on their own.
Instead of putting your home and family at risk, contact the wasp extermination professionals at Quik-Kill Pest Eliminators right away. Our team of incredible service agents jump right into action by evaluating your property and home exterior for signs of impending or present wasp infestation. By applying a combination of product and preventative care to the lawn, the threat of yellowjacket activity is greatly abated and even removed entirely.
Take the next step towards quelling your yellowjacket racket by calling Quik-Kill Pest Eliminators today. Our helpful team is standing by to respond to any and all questions related to residential wasp control. For homeowners who are ready to schedule a home inspection, the online contact form will provide the fields you need to get started immediately. Let's keep you safe from summer yellowjackets, this year and always.