Blog > What To Look For When You Are Looking For Bed Bugs In Your Rock Island Home
What To Look For When You Are Looking For Bed Bugs In Your Rock Island Home
October 15, 2019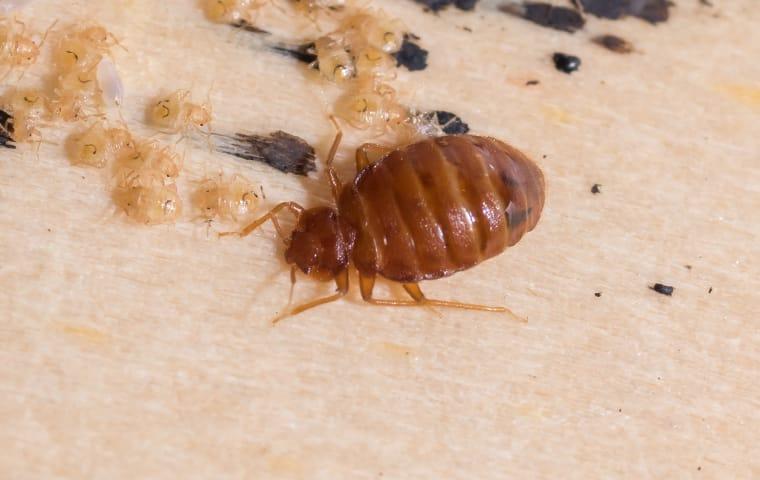 Bed bugs are becoming an increasing problem throughout the United States. And Rock Island residents see their fair share of bed bug infestations throughout summer and early fall. The best way to avoid the problems bed bugs cause is by learning how they get inside, how to identify when you have an infestation, and why they are so difficult to prevent.
How to Identify a Bed Bug Infestation
While bed bugs are elusive insects, they often leave behind signs of their presence. These signs become more obvious with larger infestations. Here are some ways you can identify a bed bug infestation in your Rock Island home:
Tiny white eggs in pockets, folds, and creases of clothing or bedding. These eggs are no larger than the size of a pinhead.

Bloodstains on bed sheets, pillowcases, and blankets. Bed bugs often leave bloodstains behind after feeding.

Rows of small itchy bite marks. Unlike other blood-feeding insects, bed bugs bite in a pattern rather than randomly.

Spots of excrement on clothing, sheets, and furniture. Excrement is reddish-brown in color.

Dead bed bugs, or live bed bugs crawling around in your home
How do bed bugs get into homes?
When most insects invade, they find gaps, cracks, and other easy points of entry around the outside of a Rock Island home. But not bed bugs. These elusive insects don't hop or fly as other insects do. They crawl onto clothing, luggage, or other personal items and hitchhike their way into homes. Bed bugs are frequently found in areas with high human activity. This means you could pick up bed bugs in public spaces. A few notable areas where bed bugs can be found include airports, lobbies, movie theaters, libraries, educational facilities, and public transportation.
Where do bed bugs hide?
Once a bed bug or two has hitchhiked into your Rock Island home, they can become nearly impossible to remove. Bed bugs are capable of staying out of sight for many months, which is why many bed bug problems are only discovered after the infestation has had time to mature. A few of the areas bed bugs hide once they invade a home include:
In electrical outlets

Under floorboards

Behind wallpaper

Under couch cushions

On bed sheets, pillowcases, and blankets

In clothes piles

And any other crack or crevice they can find
Removing bed bugs from your Rock Island home without professional help is incredibly difficult, if not impossible. These elusive insects can hide just about anywhere, go without a blood meal for about five months, and can multiply quickly. The best way to get rid of your bed bug infestation is with help from the skilled pest technicians here at Quik-Kill Pest Eliminators. We offer several effective home pest control plans and bed bug treatment programs. No matter what pests you're dealing with, we have you covered. For complete pest protection, reach out to Quik-Kill Pest Eliminators. We are happy to provide everything you need for a pest-free home.