Home Pest Control In Central Illinois & the Quad Cities
Having pests in your home is more than an inconvenience. They can pose serious health risks to children and pets, and even damage your home. With over 85 years of experience, Quik-Kill Pest Eliminators has created a COMPLETE pest solution in Peoria, Central Illinois, the Quad Cities & surrounding areas that offers the most comprehensive protection against common household pests, as well as termites for one low price. And for those concerned about bed bugs, we're pleased to introduce our Home Guardian SM Service + Bed Bugs!
The Home Guardian SM Service 5 Step Process
Step 1: A certified pest control technician from Quik-Kill will conduct an inspection of the entire structure to determine the types of pests, where they hide, and conditions favorable to their presence.
Step 2: We'll identify the pest species and its ability to inflict harm to you, your family, and your home.
Step 3: We'll determine tolerance levels or the ability of the pest to cause medical, legal, or economic harm. Harm may simply be the offending of our sensibilities by the presence of pests.
Step 4: We'll implement the proper management measures. Home Guardian SM stations are placed at regular intervals along the entire exterior perimeter of the building, providing constant protection from damaging termites. Additionally, we'll employ non-disruptive pest management measures, including pest monitoring devices on the interior of the structure, removal of pests and their residues, sealing openings to keep insects and rodents from entering, lighting adjustment, pest trapping and removal, baiting technology, product application, and more!
While we provide these superior pest control practices, we'll also consult with you as often as needed about emerging conditions that are favorable to pest infestation.
Step 5: We'll follow up frequently with you to keep your home pest-free!
Termidor Certified Professionals
Termidor is integrated into our Home Guardian SM System and is an effective termite elimination product that has been proven effective under all types of conditions and defends against termites 24 hours a day!
Not Sure Home Guardian SM Is Right For You?
At Quik-Kill Pest Eliminators, we realize that our home pest control program may not be the choice every time and under every circumstance. When you contact us, we'll carefully consider your unique situation and recommend a treatment method that we feel would be appropriate.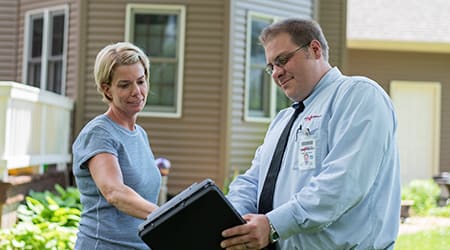 Frequently Asked Questions