Try These Cleaning Tips This Spring
April 24, 2018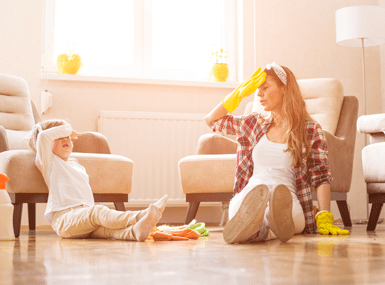 The official start of spring is officially here, meaning that now is the perfect time to put together a spring cleaning list for your home. There is no better feeling than opening up your home's windows, getting into your cleaning zone, and tackle that to-do-list. A home that is refreshed, clean and organized is a home that you can't wait to come home to after a hard day of work! To help make your spring cleaning a bit easier we want to provide you with a list of spring cleaning tips and ideas to make sprucing up your Rock Island, IL home as easy and efficient as possible!
Before you begin your spring cleaning adventure it is a good idea to gather up and purchase all your spring cleaning supplies ahead of time and place them together in one easy-to-access spot. This will save you the hassle of having to halt progress in order to run to the store to pick something up in the middle of your cleaning session. Also, before the spring cleaning begins another helpful tip is to first declutter your home, this will not only rid your home of unwanted items but will also give you less "stuff" to shuffle around and organize.
In addition to leaving you with a spotless and organized home, a home that has been thoroughly cleaned is a home that is less likely to be invaded by common spring pests like ants, spiders, flies, and more. Spring pests are attracted to homes that allow them easy access to food, water, and shelter; the act of spring cleaning can take away a pest's basic needs and make your home significantly less attractive to them!
Spring cleaning ideas that leave you with a clean home and help prevent problems with springtime pests include:
When cleaning your kitchen make sure to get into the pantry, inspecting all dry goods and getting rid of any that are out-of-date. This is also a good time to purchase plastic or glass containers with airtight lids to store dry goods inside.

Clean-out the dust, crumbs and debris that build up behind your home's large appliances.

Clean your home's ventilating system, service the air conditioner, and make sure that dehumidifiers are in good working order.

Thoroughly vacuum your home, make sure to tackle underneath all area rugs, the seams of upholstered furniture, mattresses, and box springs, and underneath of all furniture.

Thoroughly dust your home not forgetting all the blinds and curtains that are in your home.

Inspect all door and window screens to make sure that they are completely intact.

Check that weather stripping found around all exterior windows and doors is in place.
In addition to tackling your spring cleaning list, contact the pest professionals at Quik-Kill Pest Eliminators. Quik-Kill has the year-round residential pest control services in Rock Island and the Quad Cities that are needed to quickly eliminate any spring pests that have already found their way into your home, and to put into place the prevention measures needed to stop future problems with these pests, no matter what the season- spring, summer, fall, or winter! Our year-round Home Guardian Service plans provide continuous protection against pests through inspection, identification, treatment, and follow-up services. To get help with this year's spring cleaning list, and see which Home Guardian SM Service plan is right for your home, give us a call today!