Bed Bug Prevention And Control: Expert Advice And Techniques For Streator Homes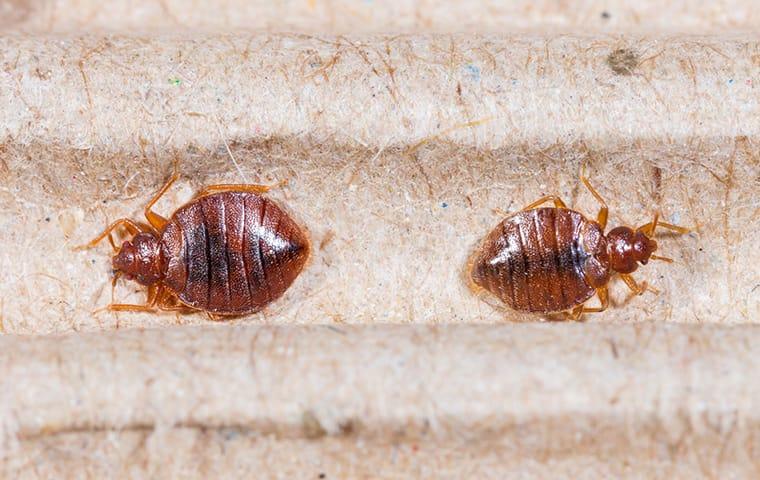 After a long day of fighting traffic, meeting deadlines at work, or running errands, you want to come home and relax. It is satisfying to enter the garage, close the door, and step into the familiarity and comfort of your house. After enjoying dinner, a few hours of television, or your hobby, you sink into the mattress and hope to enjoy a restful night.
However, when you notice itchy small red bumps appearing on your body in the morning, your time at home quickly becomes a nightmare. As you rewind your mental tapes to discover the source of the irritating and increasing number of bites, you conclude that you have bed bugs in your house.
You probably found this article because you have bed bugs and need help ending your nightmare. Quik-Kill Pest Eliminators is your answer because we provide bed bug control in Streator. When you encounter bed bugs, you need a company that has removed bed bugs from homes since 1929. Our second-generation, family-owned company is an industry leader and QualityPro Certified. Only 3% of pest control companies in the United States hold a QualityPro certification. When you use a QualityPro Certified company like Quik-Kill Pest Eliminators, you know you are partnering with the best in the pest control industry. Please keep reading to learn how to stop the bed bug infestation in your home.
Examining Your Home: Where To Look For Bed Bugs
Bed bugs are tiny six-legged parasitic insects that hide during the day and feast on your blood at night. Although they are active, usually between midnight and 5 am, you can determine if they are the source of your problem if you know where to search. Begin your search in the following locations to determine if you have a bed bug infestation:
Mattress seams
Box springs
Cracks and crevices
Headboards
Picture frames
Electrical outlets
Nightstands
Upholstered furniture
Let's briefly discuss these areas and the indicators that bed bugs are present.
Adult bed bugs are 1/4-inch insects. When they have not eaten, they have flat, broad oval mahogany bodies, but if they have recently enjoyed a blood meal, their bodies become reddish-brown and elongated. Begin looking for bed bugs by searching mattress seams and around zippers.
Bed bugs defecate a mixture of dried blood and waste; when they feed and move, they leave reddish-brown fecal stains on surfaces. In addition to the areas mentioned, look for these blemishes on walls, corners, bed linens, and night clothing.
Adult bed bugs are visible to the naked eye, but nymphs are more troublesome to detect. A bed bug progresses through five growth stages (instars) upon hatching from its egg. At its first stage, it has an almost translucent cream-colored 1/16-inch body, which makes it nearly impossible to find without magnification. A bed bug's body darkens and grows as it progresses through the four stages, which makes it easier to spot, but even then, it is less than 1/4-inch until it reaches adulthood.
You are not only better able to spot growing bed bugs if you have a magnifying glass, but you can detect their eggs. Look for the 3/64-inch white eggs in cracks between the wall, baseboards, and flooring. Also, look at the crevices and corners of nightstands and upholstered furniture in the area where an infestation is suspected. After five days, the eggs develop a black spot that makes them a little easier to detect.
In addition to six legs, two antennae, and a three-part body, one characteristic of insects is their skeleton is on the outside of the body. For insects like bed bugs to progress through their growth stages, they shed their external shell (exoskeleton) to allow their body to expand. As you investigate these areas with a magnifying glass, look for discarded cream-colored shells.
As you sleuth through the suspected location, pay attention to the smells. Bed bugs produce pheromones to communicate hiding locations to each other; if there is a bed bug concentration in a confined area, you may detect a musty odor around the objects you are investigating.
When you see bed bug signs in your Streator home, you need help from Quik-Kill Pest Eliminators. After decades of successful bed bug removal, we know all the indicators and where to look to determine if these insidious insects are the source of your problem.
Bed Bug Problems: They Aren't Just Going To Go Away
If the "check engine" light illuminates while driving, you need to immediately find a mechanic before something terrible happens to your engine resulting in expensive repair bills. In the same way, even if you discover only one bug, you need to partner with Quik-Kill Pest Eliminators.
Suppose only one fertilized female bed bug gets into your home. The first night it crawls onto your body and consumes your blood for the next five to ten minutes. When it is full of blood, it detaches, crawls inside a nearby crack, and produces one to seven eggs daily for the next ten days. Thus, one solitary bed bug may deliver five to 20 eggs over the next ten days. If the room is between 70℉ and 90℉, 97% of the eggs will hatch within nine days with a 1:1 ratio of males and females. Approximately 80% of the hatched eggs will progress to reproducing adults within 37 days. If a host continues to be present, a bed bug population can double every 16 days. As you can see, one fertilized female can trigger an infestation in a short time.
We maintain products for purchase at our corporate office because many homeowners want to fix pest problems; however, stopping bed bugs is an entirely different scenario. In a 2015 National Pest Management Association survey, 76% of pest control specialists said bed bugs were the most difficult pest to eliminate.
Archeological records indicate that bed bugs have pestered humanity for over 3,000 years. In the mid-twentieth century, many thought bed bugs were a problem of the past in the United States, but since then, they have returned with a vengeance. Since then, we have discovered that bed bugs can detect some treatment products and evade the area.
Many homeowners think they can end the bed bug invasion but quickly discover they need professional help. End the infestation in your Steator home by partnering with the best bed bug pest control near you, Quik-Kill Pest Eliminators.
Preventing Bed Bug Infestations: Tips And Techniques
When Quik-Kill Pest Eliminators end the bed bug problem in your house, you certainly do not want to risk a repeat. The best bed bug control techniques for your home are as follows:
Inspect clothing, shoes, and bags after riding on public transportation
Investigate hotel rooms for bed bugs before unpacking
Place suitcases on luggage racks when staying in hotels
Store your used clothing in sealable bags inside suitcases when traveling
Unpack clothing from luggage directly into the washer and dryer
Remove piles of clothing from the floor
Encase your mattress and box springs
Investigate used furniture before bringing it inside
Vacuum the house regularly
Suction out corners and cracks in the home
Bed bugs do not enter the house from the surrounding lawn, but they hitchhike into homes on clothing, shoes, luggage, used furniture, etc. Public transportation and venues serve as transportation hubs for these insidious pests, so always review clothing and belongings when returning from these areas.
Quik-Kill Pest Eliminators provides professional bed bug control in Streator so homeowners can rest easy at night.
Professional Bed Bug Control: Call In The Experts Right Away
When you contact Quik-Kill Pest Eliminators, you partner with a QualityPro Certified family-owned company with decades of bed bug removal experience. We will dispatch a trained service technician to inspect your house for bed bug signs. Due to their small size, experience has taught us that visual inspections do not always work. So, our licensed and certified technicians use trained K-9 dogs because they can accurately and quickly sniff out a bed bug infestation. Our K-9 dogs help us to determine the size and scope of the bed bug infestation so we can provide you with an accurate quote.
If one of our K-9 dogs indicates bed bugs are in your house, we develop a strategy to eradicate the bugs. Our treatments include EPA-registered products applied to baseboards, flooring cracks, and other commonly infested areas, followed by steam treatments. No one wants to drag out bed bug treatments over several weeks, so we help you prepare your home by providing a preparation checklist. We offer professional preparation services if you need help preparing the house.
You can avoid frustration and use the best bed bug exterminator near you, Quik-Kill Pest Eliminators. We have the tools, training, and experience required quickly and effectively end a bed bug infestation in your Streator house. Because no one can accurately determine the cost of removing bed bugs without an inspection, we do not charge if you need a bed bug inspection. Contact us today to learn about our bed bug removal service and schedule your free inspection.