Bed Bug Removal in Central Illinois & the Quad Cities
Comprehensive Bed Bug Control Services For Homes & Businesses
When it comes to bed bugs, control isn't enough! You need total pest elimination. Otherwise, you can expect these biting pests to show up again. At Quik-Kill Pest Eliminators, we understand the significant risk and challenge these bugs pose to homeowners and businesses alike. That's why we've developed an array of bed bug services to help property owners in Peoria, the Quad Cities, and other areas around central Illinois and southeast Iowa combat their bed bug problems.
Unparalleled In Bed Bug Prevention, Management, And Treatment
As nationally recognized bed bug control experts, Quik-Kill Pest Eliminators takes great pride as industry leaders in effective bed bug and pest control solutions. Our dedication to customer education and state-of-the-art treatment techniques set us apart from the competition and allow us to provide effective, comprehensive, and lasting bed bug protection to every home and business we serve.

From pre-infestation planning to property inspections, and the final treatment, our specially trained and licensed service technicians will use the most effective tools and materials on the market to kill all stages of bed bugs in your home or business.

If bed bugs are making you lose sleep, contact us today for a free consultation and inspection!
Quik-Kill Bed Bug Elimination Process
Quik-Kill bed bug control follows a tried and tested three-step process designed to ensure any bed bug problem we treat never comes back:

Free Inspection
One of our licensed and certified service technicians will visit your home or business and perform a thorough inspection of the property in order to confirm if bed bugs are present and, if so, measure the extent of the infestation and identify affected areas. Following your inspection, your technician will be able to provide a free quote based on the size and severity of the problem.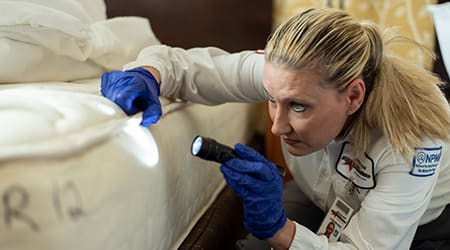 After the inspection, you will receive a Quik-Kill bed bug treatment preparation kit with all the information you need to know in order to get the best, most effective treatment for your property.

Treatment
With the property prepared, your service technician will employ a combination of conventional and steam-based treatment options to combat bed bugs anywhere on the premises. Your service technician will treat any cracks, crevices, nightstands, and non-upholstered furniture with conventional products before applying a steam treatment for complete coverage.

Follow-Up
Two weeks after your initial treatment, your service technician will return to the property to re-inspect and ensure that the problem has been completely eliminated. If bed bug activity is still present, your technician will perform a second complete treatment. Two weeks after your second treatment, your technician will return for another re-inspection. If activity is still found, the process repeats until the infestation is gone for good.
No reputable pest control company can give an estimate to exterminate bed bugs without first performing an inspection to determine the size and location of the infestation and then determining the most effective treatment method.
Quik-Kill Bed Bug Treatment Options
Quik-Kill Pest Eliminators offers several bed bug treatment options for all levels of infestation, all administered by our highly trained team of bed bug control experts. Quik-Kill bed bug treatment services include:

Conventional Bed Bug Treatments
Using EPA-registered products, Quik-Kill will treat baseboards, floor/wall junctions, cracks in walls and floors, behind outlets and switches, and other infested areas.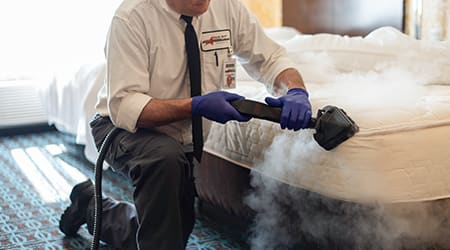 Bed Bug Heat Treatment
After the application of conventional bed bug treatment methods, we follow-up with a comprehensive steam treatment to ensure the infestation is completely eliminated. Applied to mattresses, upholstered furniture, and other key areas around the property, steam treatment is essential for killing any bed bugs hidden out of sight or in hard-to-reach areas so that they cannot repopulate.

K-9 Bed Bug Detection Services
While their small size can make bed bugs difficult to spot to the human eye, they can't escape a dog's acute sense of smell. Quik-Kill K-9 units can cover large spaces more quickly and with better accuracy than visual human inspections. This makes them ideal for larger scale facilities such as hotels, nursing homes, and multi-unit housing complexes with lots of places for bed bugs to hide. Even if you can't see the problem, we'll help you sniff it out.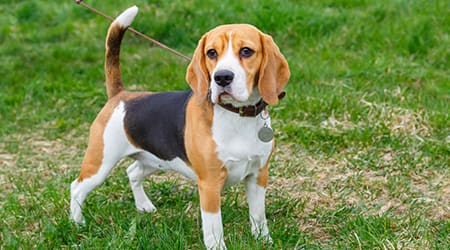 Mattress & Box Spring Encasements
No matter the type of infestation, it's always a good strategy to cut off the pests' food source. That's why Quik-Kill provides mattress and box spring encasements for affected homes, simultaneously limiting their ability to reproduce while saving you from the itching bumps and skin irritation that come with bed bug infestations.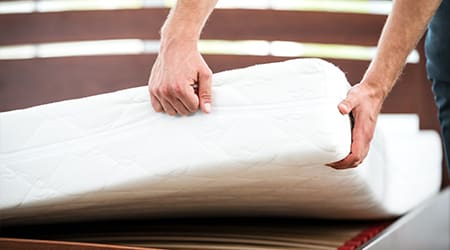 Home Guardian SM System + Bed Bugs
Homeowners in Quik-Kill's service area may also consider our Home Guardian SM System + Bed Bugs. Enjoy all the benefits of our comprehensive home pest control program with the added protection against bed bug infestations. That's one service for household pests, termites and bed bugs!
Learn more about Home Guardian System + Bed Bugs
Bed Bug Preparation Services
Bed bug preparation is a necessary step that must be taken before any type of treatment can be completed. While all our customers receive a preparation kit prior to treatment, Quik-Kill also offers professional bed bug preparation services.

One of our professional technicians will remove any items marked for disposal and relocate items that need to be treated into a storage locker brought on-site, ensuring that nothing is left to chance. Once the technician has treated the home, they'll then inspect and treat items in the locker before returning them to the house.
Professional bed bug preparation is designed to ensure that your pest control technician has a workable space, allowing him or her to apply the most thorough and effective treatment possible.
Bed Bug Pre-Treatment Services
Available for multi-unit housing and hotels, a Quik-Kill service technician will perform a preventative bed bug treatment and install mattress and box spring encasements wherever necessary. Pre-treatment gives conventional and steam-based solutions even greater effect, and is a essential step of long-term prevention for commercial properties.
Why Bed Bugs Are A Nightmare
Bed bugs have a reputation as nature's hitchhikers, and with good reason. A pervasive nuisance across the Midwest, bed bugs are excellent climbers and are notorious for finding their way into human residences and businesses by any means necessary. They latch onto pieces of luggage, purses, backpacks, clothing, and even the skin of unaware people and pets.

Bed bugs have plagued human settlements for thousands of years, and wherever bed bugs go, itchy bumps, skin irritation, and allergic reactions are sure to follow. Recent studies have now proven that bed bugs can even be direct vectors for disease through the parasites they carry, making prevention more vital than ever.

Why Bed Bugs Require Professional Treatment
Unfortunately, bed bugs' small size and adept ability to make their way into the smallest crooks and crevices make them an exceptionally difficult pest to fully eliminate. In fact, According to a 2015 survey by the National Pest Management Association of America, respondents consistently ranked bed bugs as the toughest common pest problem to completely treat.

While technological breakthroughs have given us the tools and understanding to combat bed bugs more effectively than ever before, they remain a tenacious pest that can't be effectively excluded using DIY methods alone. Worse, an incomplete bed bug treatment only delays the inevitable: if every single bug isn't eliminated, rest assured that the infestation will spring up again in the future.

If bed bugs have made their way inside your property, a complete, professional solution is essential for the long-term security of the people inside. With bed bugs, control isn't enough - you need total pest elimination. That's where the experts at Quik-Kill come in.
Thorough Bed Bug Elimination With Quik-Kill
At Quik-Kill Pest Eliminators, we understand the significant risk and challenge bed bugs pose to homeowners and businesses alike. That's why we've dedicated ourselves to developing an array of bed bug treatment services to help property owners in central Illinois and southeast Iowa combat their bed bug problems - and keep them from ever coming back.

If your home or business has come under bed bug infestation contact us today online or over the phone to schedule a free, no-obligation inspection, and find out why no one kills bed bugs more effectively than Quik-Kill.
Frequently Asked Questions