Box Elder Bugs
What do box elder bugs look like?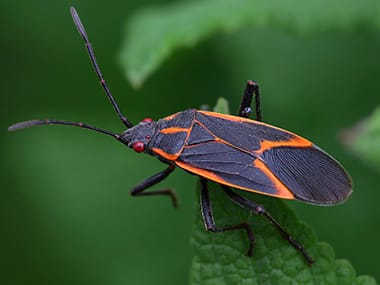 Box elder bugs have a black body and a reddish-orange color outlining their thorax, sides, and wings, giving them a very distinctive appearance. In fact, their distinctive black and orange coloring is why people often refer to them as "Halloween bugs". When box elder bugs are at rest, their wings lay flat across their backs. Adults grow to be about 1/2 of an inch in length, and their bodies are flat and oval with a head that is much narrower than the rest of their body. Nymphs (young box elder bugs) look like the adult except that they are smaller, lack wings, and are a solid red color.
Where are box elder bugs found?
During the spring, summer, and early fall, box elder bugs can be found on box elder trees and other seed-bearing trees. When the weather cools in the fall, adult box elder bugs flock to the sunny sides of buildings, eventually entering inside through cracks, crevices, and gaps that they find as they climb. Once inside, box elder bugs will make their way behind walls, under floors, and into crawlspaces and attics. They stay inside until the weather warms back up in the spring, then they move back outside to live, feed, and breed once again. It's important to note, box elder bugs will not breed inside Quad City homes and businesses during the winter. They actually enter diapause, which is a sort of hibernation.
What do box elder bugs eat?
Box elder bugs feed on the soft plant tissue of box elder trees and other seed-bearing trees including ash trees, maple trees, plum trees, and apple trees. They use their beak-like mouthparts to suck liquid from tree leaves, flowers, and young branches.
DIY box elder bug prevention and control tips
Eliminating potential food sources is the best way to prevent problems with box elder bugs on your property and in your home. If removing trees is not an option, try implementing some or all of the following prevention tips:
Seal cracks and crevices found in the foundation of your home.

Replace damaged or missing pieces of siding from the outside of your home.

Make sure screens that are placed in windows and doors are completely intact. If they are not, replace them.

Caulk gaps found around exterior doors, windows, and utility entrances.

Make sure that all chimneys are fitted with chimney caps.

Make sure that vents have tight-fitting covers or screens over them.
Professional box elder bug control
For a customized residential or commercial solution to your box elder bug problem, contact Quik-Kill Pest Eliminators today. Our team of licensed pest control technicians have the training and equipment to help property owners in our Illinois and Iowa service areas eliminate pests that are causing problems.