Dangers Cockroaches Bring to Illinois and Iowa Residents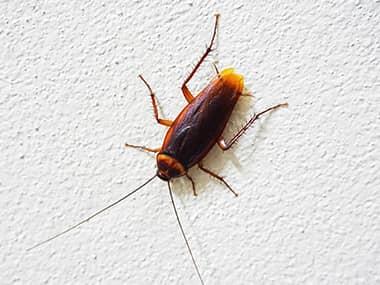 There are many species of cockroaches found throughout the United States. However, only a few of them are considered household pests. Of those few that can get into houses, some are worse than others. In fact, some are a lot worse.
As you can probably imagine, American cockroaches are quite common in the United States. But surprisingly, they aren't the most common roach people find in their homes; the German cockroach actually has that distinction. German cockroaches are the most established cockroaches in the world. This is because they can thrive inside man-made structures. So if you're seeing small, light brown or tan colored roaches in your home, don't be surprised! German roaches can live in environments that are inhospitable to other cockroaches. This makes them much more frustrating to deal with than many other species.
Whether you're dealing with one of the two types of cockroaches mentioned above or one of the other common roaches we see in Illinois and Iowa such as the brown-banded cockroach, the oriental cockroach, or the Pennsylvania wood cockroach, you should be aware of the health threats these pests present.
First of all, cockroaches are frequently found in extremely unsanitary places. These filthy pests can be found crawling through dumpsters, trash cans, and sewers, feeding on the remains of dead animals and more. Due to these habits, cockroaches are mechanical vectors for over 33 forms of harmful bacteria, including salmonella.
There are more than 2,000 strains of salmonella bacteria alone. That's one of the reasons you hear about food recalls related to salmonella happening quite often. There are over a million cases of salmonella reported in the U.S. each year. Symptoms of salmonella are similar to the symptoms associated with the flu. If you have cockroaches in your home and commonly experience flu-like symptoms, the two may actually be related. And salmonella is just one of the many bacteria these pests are known to spread!
The bacteria spread by cockroaches doesn't just contaminate food items, but can contaminate surfaces as well. The salmonella bacteria can live up to four hours on hard surfaces or fabrics, and human illness can result when these surfaces are touched and the bacteria is introduced to the mouth area. Since cockroaches often crawl over dishes, silverware, cutting boards, and more as they explore our homes, they can cause illness without ever getting into your food.
Along with 33 forms of harmful bacteria, cockroaches can also expose people to over seven human pathogens and six parasitic worms. The most common parasitic worm spread by cockroaches is hookworm. Humans contract hookworm when they touch or ingest cockroach feces.
Studies done by the Asthma and Allergy Foundation of America (AAFA) have conclusively linked the presence of cockroaches to an increase in asthma symptoms. While the underlying immune mechanisms and the genetic etiology for differences in allergic responses are not clear, the presence of cockroaches in homes definitely increases the rate of these symptoms. If you're experiencing asthmatic symptoms or seeing these symptoms in your family members, particularly in your children, it could be in response to the presence of cockroaches in your home.
The goal of this article isn't to make you fearful of cockroaches, but rather to shed light on the health threats they can pose. While cockroaches are unpleasant to have around, many people put up with them because they don't think that they are a serious problem. But study after study has revealed that roaches present many serious health risks for people when they get into homes and businesses!
Cockroach Prevention
Before roaches find their way into your home, they're probably going to explore your foundation perimeter, crawl around under your porch or deck, and get into your exterior trash cans. Here are some things you can do to resist them:
Keep your trash receptacles sealed and clean as the smell of garbage can lure cockroaches to your yard.

Trim back tree branches to allow sunlight to dry locations near your home that stay shaded or damp. Cockroaches are attracted to moisture.

When leaves fall, be sure to rake them away from your home. Cockroaches love leaf litter. It is especially important to make sure that you don't have piles of leaves underneath structures like your deck or your porch.

If you have a dog, make sure to keep your pet's feces cleaned up as much as possible. Not only will cockroaches feed on their feces, but they can also pick up harmful bacteria from those feces and introduce them into your home.

Perform a thorough inspection of your home and seal any gaps you see around windows or doors. Cockroaches will quickly exploit any opening they can find.
If you live within our Illinois and Iowa service area and you need protection from cockroaches, reach out to us at Quik-Kill Pest Eliminators today! We offer interior and exterior treatments to help control and exclude cockroaches and we'd be happy to help rid your home of roaches!