Here's How Pantry Pests Get Into Your Streator Home & How To Keep Them Out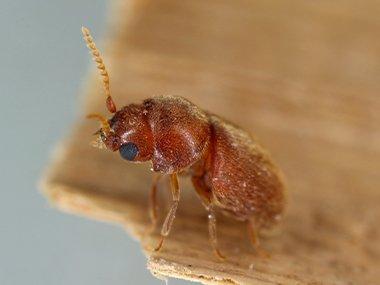 Do you know what a pantry pest is? If not, allow us to introduce you to a few of them. Today, we're going to discuss cigarette beetles, saw-toothed grain beetles, and Indian meal moths. These are common pantry pests that you should be aware of. While each is slightly different, they share some commonalities that are important for you to know, especially if you want to keep these yucky insects out of your pantry foods.
Cigarette Beetles
Also called cigar beetles or tobacco beetles, these tiny insects can infest a wide range of stored products, not just tobacco. Some of the foods you may find them in are flours, dried fruit, cake mix, cereal, spices, cocoa, coffee, rice, dry dog food and more. A cigarette beetle is an oval-shaped, brown insect that is between 2 and 3 mm in length.
Sawtoothed Grain Beetles
These insects are most likely to be found inside cereal or macaroni. The sawtoothed grain beetle gets its name from the saw-like ridges on each side of its thorax. But you'll have a difficult time seeing these tooth-like bumps because a sawtoothed grain beetle is only about 2.5 mm in length. That's really small.
Indian Meal Moths
You can find these moths hanging out around, or inside, many stored food packages. It's preferred foods are grains, crackers, dried fruits, bird seed, and dry dog food. For a moth, the Indian meal moth isn't much to look at. It is only about 15 mm long. While much larger than than the beetles we've featured, this is still a small insect. You can identify an Indian meal moth by its copper brown coloration and tan band running through the center.
What These Pests Have In Common
The foods that beetles, moths, and weevils target are what we commonly put in our pantries. That is why these stored product pests are often referred to as pantry pests. There are two ways they can get into your pantry foods. One is more common than the other.
Hitchhiking: Most often, these insects are brought into homes already inside grocery foods. While this is certainly unsavory to think about, it is important that you realize this. Applying exclusion methods to the outside of your home won't keep these pests out of your food.
Entering: In some circumstances, these insects can come into your home from the outside. It is important to make sure that your exterior walls are sealed, and that you consider having a licensed professional provide routine treatments to repel and eliminate pests.
How To Stop Hitchhiking Pests
There are a few ways you can keep pantry pests from becoming a part of your evening meal, or your baked treats. The most important is the use of sealed glass or plastic containers. Glass is preferable because it has more benefits.
A sealed glass container allows you to see eggs, larvae, webbing or adult insects crawling around inside your food.

The seal prevents smells from getting out of your stored products and attracting pests.

If a pest is carried into your pantry, a sealed container will keep it from getting out and spreading to other containers.

Many pantry pests can chew through paper, or cardboard. When you put your foods in sealed containers, you keep pests from getting in.
It is also important to consider prevention while you're at the grocery store purchasing your pantry products.
Look for damage to products, or holes that a pest could enter in through. If you see entry points, select another product to purchase.

Check the expiration dates on your products. Pantry pests are attracted to foods that have the strongest scent. Food that is past due is more attractive because the odor is stronger.
What You Should Do When You Find Pantry Pests
If you use containers, all you need to do is dump the contaminated food out and clean the container, and you're good to go. If you don't use containers, it is wise to contact a licensed pest control professional. Properly eliminating pantry pests is a science. If you live in Streator, contact Quik-Kill Pest Eliminators. Our pest professionals are highly educated and fully certified to tackle all of your pest control issues, including pantry pests.