Finding moths in your cereal is one thing, but pulling cashmere out of the closet riddled with holes is a whole other kind of disappointment. Clothing moths have the potential to be the more financially destructive pest, so it's even more important to know what you're looking at when you see it. Moths that are harmless to stored food and clothing are pretty common in households, so how do you tell the difference between the pests and the accidental intruders? To start with, clothing moths are only about 1 cm long.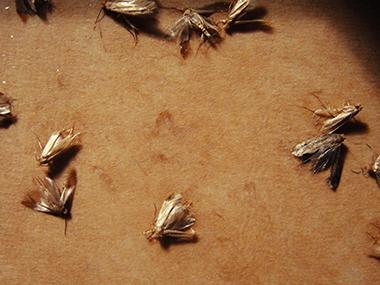 What Does A Clothing Moth Look Like & What Does It Eat?
Taking action at the first sign is especially important with clothing moths. With their short lifespan and voracious hatchlings, your precious knits and sweaters could be destroyed between Thanksgiving and Christmas. To be prepared, you must know what you're looking for when you spot moths in your home.
For clothing moths, look out for these characteristics:
Clothing moths are beige or buff-colored, occasionally with dark spots on the wings or a red tuft on the head.

They are about ½ inch in length or the size of a pinky fingernail.

Adults do not feed on fabrics but may lay up to 50 eggs at one time.

Eggs are smaller than a grain of sand and sticky to the touch.

Larvae are creamy-white and up to ½ inch long.

Some species of clothes moth larvae carry their fiber cocoons around with them, and some will build them where the wall and ceiling meet or in shelving corners.

Affected clothing may have threadbare spots or detached fur from larvae feeding along the surface of the material.

Fecal pellets or snot-like dried webbing may be present.
Clothing moths feed almost exclusively on animal fiber clothing or fabrics. This could include materials like wool, fur, silk, feathers, felt, and leather. Mixed fiber fabrics can be affected if mixed with another animal fiber, and non-animal fiber materials can be affected if thoroughly soiled with food or body oils.
Unfortunately, this means that the most vulnerable items in your closet are also likely to be the most valuable. To protect your precious knits and materials, there are a few things you can do to keep your wardrobe safe.
Five Clothing Moth Prevention Tips
Keeping your clothes safe will take some preparation and, in the case of an infestation, some quick thinking. As with most pest prevention, the key to keeping them away is eliminating access to food and shelter. To keep clothing moths from ruining your precious fibers, try these prevention tips:
Dry clean before storage: Moths are often attracted to the scent of perspiration and other body oils, so cleaning them thoroughly before putting them in storage may help to make your closet less attractive.

Store clothing or linens in tightly sealed plastic: Whether using dry-cleaning bags or vacuum-sealed bags, it's essential that the plastic covers every centimeter of the material, that it's airtight and has no holes. Duct tape around seams or openings if necessary, and to be extra sure, keep your plastic-sealed bags in a plastic, sealed container.

Regularly open your closet door and move items in and out: The light and movement will dissuade moths from taking shelter. If they don't have a stable, dark environment, they'll be less likely to stay.

Use cedar and other herbal scents for moth deterrent: In addition to other prevention methods, unsealed cedarwood or oil stored with materials in an airtight container might be an effective deterrent. Natural methods are a more favorable option than the potentially dangerous mothball, but their effectiveness is not always assured.

Place pheromone glue traps for early detection: Clothing moth infestations can go undetected for a long time, at which point it's far too late to save your things. Keeping a fresh pheromone trap around vulnerable items can alert you to a problem before it's too late.
Getting rid of an infestation is not nearly as easy, nor are you likely to save your materials by the time you notice the problem. Prevention is the best method for keeping your most valuable clothing items safe from clothing moth destruction.
Contact Quik-Kill Pest Eliminators For Total Moth Elimination
By the time you see a moth, the window of opportunity to save your fabrics is already closing. Call Quik-Kill Pest Eliminators at the first sign of an infestation for the best chance of getting your leather and cashmere out in one piece. With our Home Guardian Service, we will identify risk areas and deal with current pest problems. Whether dealing with an existing infestation or protecting your Streator home against future pests, Quik-Kill Pest Eliminators can keep your home and family safe from over 30 different destructive pests. Call or visit our contact page to schedule your free, no-obligation inspection.