Saw-Toothed Grain Beetles
What do saw-toothed grain beetles look like?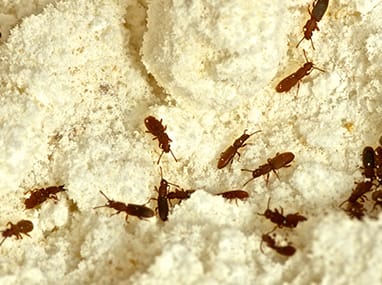 Adult saw-toothed grain beetles are brown and have an elongated, flattened body. They are winged but are never seen flying. Adults grow to be about 1/8 of an inch in length. They have distinctive rows of saw-like teeth that are located on the segment of their body just behind the head. Their worm-like larvae are off-white and are shorter in length than the adults.
Where are saw-toothed grain beetles found?
Saw-toothed grain beetles infest broken grains (they do not infest whole grains). An infestation usually originates at packaging or storage facilities. These beetles (adult or larvae) usually enter Quad City homes in products purchased from stores that are already infested. Their flat bodies allow them to easily infest broken grain kernels and food packages.
What do saw-toothed grain beetles eat?
Saw-toothed grain beetles are a common pest inside homes because they feed on a variety of dry goods that are stored in kitchens and pantries such as breads, cereal, flour, dry pasta, dried meats, candy, sugar, dried fruits, nuts, and tobacco.
DIY saw-toothed grain beetle prevention and control tips
To prevent a saw-toothed grain beetle infestation in your home's kitchen or pantry you should always check food products that you are purchasing for holes or rips in the packaging. When you get items home from the store, it is a good idea to remove them from their original packaging and place them into plastic or glass containers that have tight-fitting lids. Routinely clean out the pantry to get rid of expired or older items, and quickly clean up crumbs and spills.
Professional saw-toothed grain beetle control
For help eliminating saw-toothed grain beetles, contact Quik-Kill. Our licensed pest control technicians are well-versed in solving pest problems using the latest industry practices and equipment. Please visit our residential pest control page to learn more about our program or click here for more information on our commercial pest control solutions.