Should I Be Concerned About Carpet Beetles In Streator?
Carpet beetles have the potential to cause damage when they get into homes in our area. In many cases, residents wait until they start seeing damage before they connect with Streator pest control to address the problem. We hope this is not the case with you.
While it is quite possible to find a carpet beetle and not have a carpet beetle infestation, at the first sign of carpet beetles, there are a few things you should do to protect your belongings and your stored foods. Let's take a look at how to identify carpet beetles, where carpet beetles hide, and how to keep carpet beetles from damaging your things.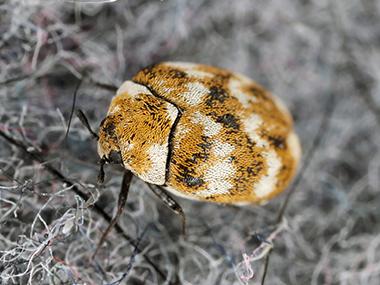 Is This A Carpet Beetle In My Home?
When you find carpet beetles in your Streator home, you might not know it. An adult carpet beetle is very small. It can range in size from 1/8 to 3/16 of an inch in length, depending on the species. Take a look at a ruler and imagine an insect that is only 1/8 of an inch long. That's really small. This makes it difficult to see color patterns and other identifying traits.
But if you're able to get a good look at one, look for these color patterns to identify them: An adult carpet beetle may be entirely black, mottled brown, white and black, or black, white, and red.
What Carpet Beetle Larvae Look Like
When you find carpet beetles in your Streator home, they may not be beetles at all. They may be grubs. Carpet beetle larvae are little, worm-like grubs. This is actually the stage that can do damage to your stuff. If you find hairy, worm-like bugs attached to fabrics, there is a good chance you're looking at carpet beetles.
Can Carpet Beetles Live In Couches?
Yes. This is one of the many places carpet beetle larvae may be found. If you find dead carpet beetles in your furniture, it is a warning sign that there are grubs inside. The adult beetles don't live in furniture. They live out in the open. The job of the adult beetle is to reproduce.
Carpet beetle larvae don't like to be out in the open. They hide from the light. You'll find them hidden in dark places, such as the interior of couches, underneath area rugs, and in boxes of stored clothing. While larvae are able to live for several years, adults have a life expectancy of a few weeks. This is why you'll find dead carpet beetles in your furniture or on your floors.
How Can I Keep Carpet Beetles Away From My Property Naturally?
Now that you know a little bit about carpet beetles and where they hide, let's discuss how you can protect your stuff and potentially get rid of carpet beetles. There are actually several natural methods for addressing these insects.
Store your belongings in sealed, plastic totes. This prevents carpet beetles from getting into your stuff. There are also other benefits to keeping stored items in sealed plastic containers rather than in boxes. Before storing your items, dry clean or wash and dry the items. This will exterminate any grubs that are hidden in them.

If you have carpet beetles in a rug, you may be able to arrest the infestation by steam cleaning your carpets. As you do this, be sure to move slowly. This allows the heat to stay in one spot long enough to kill these pests.

Store pantry food in sealed containers. Carpet beetles may lay their eggs in your food. Containing food keeps carpet beetles out and also prevents grubs from moving from one container to another.

The screens on your home are your first defense when it comes to carpet beetles. Make sure all your screens are in good repair and that there are no gaps around the frames. Also be sure to check for gaps around exterior doors, windows, and utilities. While carpet beetles can fly right into your home through an open door, they're much more likely to use a tiny gap, crack, or hole to get inside.
It can be a lot of work trying to get rid of carpet beetles or to keep them out of your home. Remember that you're not alone. The licensed pest professional at Quik-Kill Pest Eliminators can provide a carpet beetle treatment for your home and arrest the carpet beetle infestation.
We also provide a residential pest control service that stops carpet beetles and other pests from getting into your home in the first place. The best place to do battle with pests is in the perimeter around your home. Connect with us here at Quik-Kill Pest Eliminators to learn more about residential pest control or to schedule a meeting with one of our friendly and knowledgeable professionals.