The Trick To Keeping Rats Away From Your Streator Home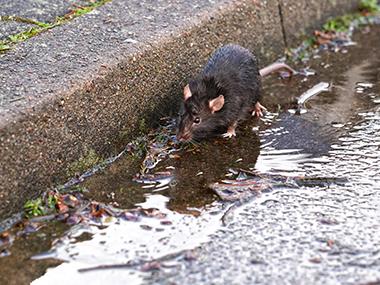 Streator may make an excellent home for people of all kinds, but unfortunately, it can also be an attractive place for rats. Stray rats aren't afraid to make your home into theirs, so what can you do about them?
Here's what Streator residents should know about how to identify rats in their home, the dangerous diseases rats spread, how to prevent them, and when it's time to use pest control in Streator.
How To Identify A Rat
How big do rats get, and what do they look like? When discussing rat size, it's essential to understand that not all types of rats look or grow the same size. There are two different types of rats you may encounter in your Streator home. Roof rats can measure anywhere from twelve to sixteen inches in length if you include the length of their long tail. Along with dark, dusty fur, these rats also have slender bodies, which make it easy for them to climb onto rooftops. Norway rats, also called brown rats, are larger than roof rats but have shorter tails and can grow more than sixteen inches long, but have bulkier bodies that make it harder for them to do much climbing.
What about identifying rat infestations in your home? The signs of a rat infestation can look extremely similar to any rodent infestation, but some of the most concerning signs include:
Droppings: Rats can produce up to forty droppings in the same night, so you may find these tiny, dark pellets scattered in areas of your home with high rat activity.

Scratching noises: Rats aren't quiet. While roof rats may create scratching noises when they climb, brown rats can cause grinding noises when they burrow into your basement or home.

Rat nests: Like many rodents, rats like to create nests when they start to multiply. You can find these nests in your attic, basement, loft, or even the cavity of walls. Rats will shred any available materials, like insulation or newspaper, to create their nests.

Footprints: Rats may walk through their own droppings or spilled food, which can create footprints around your home.
Along with the signs listed above, you may also see live rats. While this isn't as common, it's possible to see a live rat scurrying across your home, especially at odd hours of the night when they're most active, or you may occasionally see a dead rat as well.
Where do rats live in your home? Like many rodents, rats prefer to hide in isolated areas of your home where they are unlikely to be discovered. This may include nooks and crannies in your attic, basement, garage, or another corner of your home. Rats may also hide inside your walls and create nests in these hard to reach areas.
Rooms that are dark, have extra moisture or humidity, and provide access to a food source can all become hiding spots for rats – so kitchens and basements are great places to look for possible signs of rats.
Keep in mind that rats are nocturnal, which is why many homeowners might not realize they have a rat infestation. These critters are most likely to leave their hiding spots to search for food and water at night, but you may still notice signs of their presence during the day – such as droppings, runways, chewed wires, scratching noises, and potent odors from their waste.
The Dangerous Diseases Rats Are Known To Spread
Rats are unsettling and can also be dangerous for you, your family, or your pets if they invade your Streator home. Some of the dangers that rats can pose include:
Spreading Disease and Bacteria: This is often the biggest concern when you've got a rat or rodent problem in your home, and there's a good reason for it. Rats spend a lot of time in unsanitary places and mingling with other disease-ridden pests, which means they can become carriers for disease and bacteria. Some of the most common diseases and bacteria spread by rats include hantavirus, tularemia, rat-bite fever, salmonellosis, and even the plague. Rats often spread disease by urine and defecating around your home, although it can occasionally happen through bites or scratches too.

Causing Property Damage: Like many rodents, rats build nests and find hiding places in your home, and they can cause a lot of property damage along the way. With rodent infestations, it's not uncommon for rats to chew through insulation, walls, or even your electrical wires and plumbing.

Bringing in Parasites: While in the wild, rats may pick up parasites like fleas, mites, and ticks. Once they enter your home, these parasites might decide they'd like an upgrade – which usually means infesting your home, pets, and family. In many cases, these parasites can spread their own diseases.

Scratching or Biting: Although it isn't always the case, rats can sometimes bite or scratch if they feel threatened. A rodent's first instinct is usually to flee, but if they're cornered, they may lash out at you or a pet, which could put you at risk for harm.
Rats are some of the most dangerous pests in Streator for both your home and your health. If you have an infestation it's important to take care of it right away.
Five Simple Yet Effective Rat Prevention Tips
Are rats hard to get rid of? Some homeowners may assume they can get rid of the Chicago rats on their own, often by using DIY methods, like smells that keep rats away. Given how quickly rats can reproduce and how clever they can be at hiding, most DIY methods aren't truly effective for rat control – nor do they address why rodents are targeting your home.
Ultrasonic rodent repellers, mothballs, peppermint, and rat poison won't get the job done, and these methods may even be toxic for your family or pets – so it's usually a good idea to steer clear.
While you may need professional help for existing infestations, there are steps you can take to prevent future rats, such as:
Don't store your food or trash in accessible areas. Food that's sitting out or trash cans that are left open are all accessible to rodents. Make sure you're keeping any food products in sealed containers or packages, using lids on garbage cans, and using trash bags that won't leak.

Seal any potential rodent entrances. Rats need a way inside, so using caulk or steel wool to block off holes, cracks, and gaps will help prevent them from getting into your home.

Keep your clutter under control. Rats thrive in cluttered areas and may use storage boxes, newspapers, or other materials to build nests. Keeping your home organized can help prevent this from happening.

Don't forget about outdoor trash cans or compost piles. Outdoor garbage cans and compost piles can also draw rats in, so you'll want to make sure you seal off these areas too.

Get rid of the extra moisture. Rats love water, so excess moisture and humidity around your home can also attract them. If you have a moisture or humidity problem, you should address this as soon as possible to deter rats as well as other pests.
Can you get rid of rats without killing them? Rats can be dangerous and cause plenty of damage to your home, but can you get rid of them without killing them? Unfortunately, it is very difficult to completely eliminate a rat infestation without killing them – especially if you're not using professional help.
You can use rat traps to trap and release some of these rodents away from your home, but you'll have to use a humane rat trap. Many rat traps are designed to kill rats instantly, but some live traps will safely cage the rat without harming it.
However, rat traps aren't very efficient for eliminating rat infestations. Not only do you need a large number of traps, but you'll also need to place them in exactly the right spot to catch your rats and have an area ready to release them.
Some homeowners may also try to use ultrasonic rodent repellers, which emit a frequency that's unpleasant to rats but won't harm them. While ultrasonic rodent repellers may temporarily deter rats, they usually won't permanently get rid of them. Rats are clever, and they may just find new routes and pathways to get around your home.
If you're interested in getting rid of rats while causing limited harm, you can always talk to a local pest management professional for more guidance.
Call The Professionals At The First Sign Of Rats
If you see any signs of a rat infestation or even spot a live or dead rat in your home, it's time to contact the pros at Quik-Kill Pest Eliminators immediately. Rats are extremely dangerous and destructive, and you shouldn't give them any more opportunities to ruin your home – or your health.
If you think you could have rats or would like to learn more about rat prevention for Streator homeowners, don't wait any longer – call us today at Quik-Kill Pest Eliminators to schedule your inspection.