What Streator Property Owners Ought To Know About The Dangers Of German Cockroaches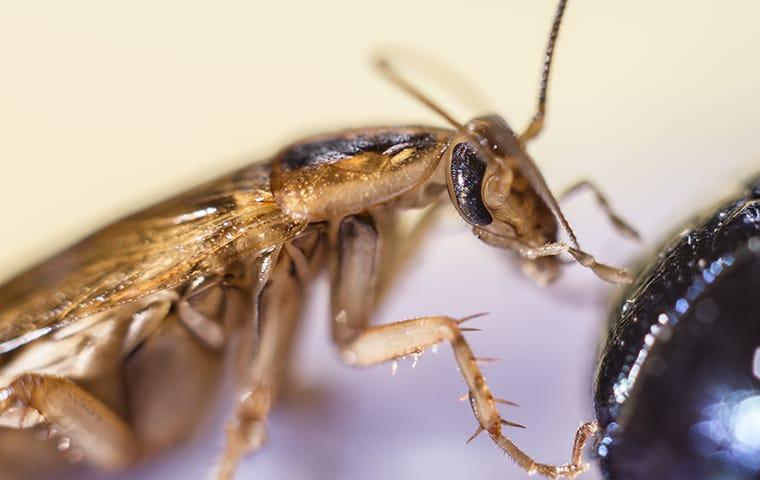 One of the most common home-invading insects in the world is the German cockroach, and it is the most common cockroach you'll find in your Streator home. If you have a roach problem, there is a good chance you're dealing with German cockroaches. Why are German cockroaches so common? There are several reasons. They reproduce like crazy. They tolerate dry conditions. They alter their behavior to avoid threats. And German cockroaches can gain access to locations that other cockroaches cannot. This is because German cockroach nymphs are small enough to pass through the eye of an electrical outlet. This makes this species of roach extremely difficult to control, and if you don't get control of them, they will present all of the dangers cockroaches are known for. Here are a few of the most important dangers to consider.
Cockroaches Are Resistant To Chemicals
If you use toxic chemicals to exterminate German cockroaches, you could present a serious risk to your family. As cockroaches grow, they shed old skins and grow new ones. These new skins can be fashioned with a resistance to chemicals. But, even before this chemical-resistant skin is created, a cockroach can still be a vehicle for these chemicals. Cockroaches are amazingly resilient animals. A roach can bring a pesticide from an area you sprayed in your basement to a sensitive location in your kitchen within a matter of minutes. It is best to have a licensed pest professional select appropriate EPA approved products and administer them according to strict safety regulations. The last thing you want to do is replace one threat with another.
Cockroaches Spread Disease
Like all cockroaches, German cockroaches have some extremely unsavory habits. They climb around in sewers and dumpsters. They feed on rotting organic sludge in the bottoms of trash bins. They nibble on decaying animals. They eat animal feces and also human feces. These insects are drawn to rot and decay. The harmful bacteria, parasitic worms, and pathogens they are exposed to don't kill them. This makes them a mechanical vector for human illness.
Once inside your home, German cockroaches can still be exposed to disease-causing agents. They climb on toilet seat rims. They feed on cat feces in litter boxes. They climb down into drains and feed on the moist decaying organic matter clinging to the walls of your pipes. They get into trash bins and slurp on the rotting juices at the bottom. It is disgusting but true. Cockroaches are filthy insects. It is their nature. You should never allow cockroaches to live in your home.
Cockroaches And Allergens
It has long been known that cockroaches can cause rashes when they walk across the skin. This was observed by doctors treating patients back in the 1940s. But recent studies have shown that cockroaches are linked to an increase in asthma. Homes in urban centers that had cockroach infestations were found to have a higher rate of hospitalizations due to asthma-related symptoms. This is caused by the shed particles from the skins of cockroaches as well as their saliva and feces.
Cockroach Bites
A German cockroach has no desire to eat living tissue but it can, and will, bite under certain circumstances. If a population becomes large and cockroaches are extremely hungry, they may take to biting humans. It is rare, but it happens. What is more common are bites caused by cockroaches as they attempt to eat dead skin in the eyelids, around the eyes, and around the mouths of sleeping people. These bites tend to become inflamed red welts because the wounds are immediately introduced to harmful bacteria.
Cockroaches And Food Contamination
There are many ways a cockroach can make you sick. The most common is food contamination. Cockroaches have the ability to chew through paper, cardboard, and thin plastic food packages. Once inside, they spread bacteria and parasitic worms to the food they touch. In a recent study, cockroaches were found with six different parasitic worms on their skins. These worms are able to cause serious stomach issues and chronic illness.
The Most Important Thing You Should Know
You don't have to let cockroaches make you sick. If roaches have gotten into your Streator home, contact Quik-Kill Pest Eliminators for immediate assistance. We use the most trusted products and methods to eliminate cockroach infestations. We can help you resolve your cockroach problem. Reach out to us today.