What To Do If You Have Carpet Beetles In Your Streator Home
What are carpet beetles? What causes carpet beetles? Your Streator, IL home could have a carpet beetle infestation, even if you don't know it. Here's what Streator homeowners should know about identifying carpet beetles, how to tell if there are new carpet beetle larvae in your home, the signs of an infestation, and how pest control in Streator can help you get rid of these pests.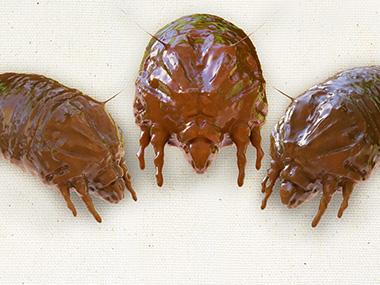 What Does A Carpet Beetle Look Like?
Growing up to 1/8 of an inch in length, carpet beetles can have dark coloring or striped shells with black, yellow, orange, or white coloring. Because of their flat, oval-shaped bodies, many carpet beetles can often get mistaken for cockroaches.
However, cockroaches don't have the striped shells that carpet beetles do and are usually much larger, with some roaches growing over two inches long. If you need to differentiate the two pests, look for a striped shell and the size of the bug.
Besides their physical appearance, here are a couple of other interesting facts about carpet beetles:
While adult carpet beetles like to feed on nectar and pollen, young larvae will eat the natural fibers in your carpet, like wool, leather, silk, and sometimes even pet hair.

Carpet beetles aren't known to bite, but they can sometimes make you sick by contaminating the food in your home.

While carpet beetle larvae are the biggest concern for eating your carpet, adult carpet beetles can still be troublesome if they ravage your garden.

Carpet beetles will infest just about any room in your house, but they're especially prevalent in rooms that have carpet or other materials for them to feed on.
Are carpet beetles bad? Yes, carpet beetles can be extremely destructive, especially if the infestation goes unchecked for long enough.
How To Tell If There Are Carpet Beetle Larvae In Your Home
Adult carpet beetles tend to have dark coloring, but their eggs have a white, creamy coloring and measure less than a millimeter in length. Adult carpet beetles can lay up to a hundred eggs at once. While they are tiny, you may notice clumps of them in your carpets or on other fabric items in your home. Depending on the conditions, carpet beetle eggs can hatch as soon as ten days after being laid or in as long as a month.
When the eggs hatch into larvae, the larvae, sometimes called "wooly bears" are actually larger than the adult beetles. They tend to have brown or black coloring, but their most recognizable feature is the dark hair covering their bodies. How long do carpet beetles live? This entire lifespan from egg to larvae to adult can take anywhere from two to six weeks. It may be just a little over a month, but carpet beetles can cause a lot of damage in their relatively short lifespan.
Signs Of A Carpet Beetle Infestation
With enough time, carpet beetle larvae can destroy your carpet, but how can you tell if you've even got an infestation at all? Here are some telltale signs of a carpet beetle infestation in your Streator home:
You're seeing live or dead adult carpet beetles, larvae, or eggs around your home.

There is noticeable damage to blankets, wool clothes, or other fabrics in your home, and it looks like parts of the fabric have worn thin.

There are patchy sections on your carpet, despite no damage being done to your flooring.

If you've got animal mounts or trophy heads, carpet beetles may eat through the fur and leave bald spots.

You notice shed larval skins around your home, like under rugs, blankets, furniture, or even near clothing.
If you are noticing these or other signs that have you suspecting a carpet beetle infestation, it's time to take action. But, how do carpet beetles get in your house in the first place? Along with cracks and crevices, carpet beetles can use open windows or doors to fly or crawl into your home. Leaving your windows and doors open during the warmer months can make your house susceptible to carpet beetles.
Tips & Tricks To Total Carpet Beetle Removal
Along with keeping your doors and windows closed to prevent entrance into your home, the best way to get rid of carpet beetles in your house is by working with Quik-Kill Pest Eliminators. We've been serving Streator and surrounding areas in Illinois for almost a hundred years, and our trustworthy reputation and excellent customer feedback speaks for itself.
If you are spotting some of the signs of carpet beetles around your Streator home or just want to learn how you can better protect your home and carpet from these pests, we're only a phone call away. Contact us today at Quik-Kill Pest Eliminators for quick, effective, and affordable solutions to get rid of carpet beetles.