Cockroach Control: A Helpful Guide For Streator Homeowners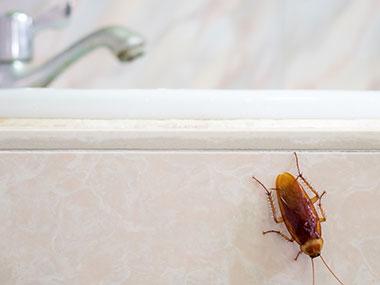 If you've ever encountered cockroaches in your Streator home, you know how nasty and persistent these pests can be. Besides being creepy, cockroaches can trigger allergies and spread harmful diseases. An infestation of these pests in your home is a problem you don't want to ignore.
At Quik-Kill Pest Eliminators, we understand the frustrations of living with a cockroach infestation, and our team is here to help make sure that your home remains safe from this pesky pest. Since 1929, we've been providing families with top-notch pest control in Streator, and we've stayed on top of the latest cockroach control technology and practices.
When it comes to cockroach infestations, early detection is key. Our name says it all – Quik-Kill Pest Eliminators identifies and treats cockroach problems quickly and efficiently so that you can get your home back to normal as soon as possible.
If you have a cockroach problem in your Streator home, don't hesitate to give us a call. Our experienced technicians are here to help and will work hard to make sure that your home is free of these pests for good.
Types Of Roaches That Commonly Invade Streator Homes
If you live in Streator, Illinois, chances are you've seen a cockroach or two. In fact, three species are most likely to invade your home and cause a nuisance – the German cockroach, the American cockroach, and the oriental cockroach.
Understanding the characteristics of each can help you identify which one is causing problems in your home:
German Cockroaches: The German cockroach is the most common type of roach found inside homes across Streator. These pests measure about half an inch long with a tan coloration and two dark stripes just behind their head. They are usually found in damp areas such as kitchens and bathrooms and may make their way into appliances like microwaves or refrigerators, where they can locate food sources.

American Cockroaches: American cockroaches are much larger than German cockroaches, measuring up to two inches long with a reddish-brown coloration. They prefer warm and humid areas like basements or sewers but will also venture inside homes if given access through cracks or crevices in walls or floors. American roaches may also enter through drains or vents if not properly sealed off.

Oriental Cockroaches: Oriental cockroaches are slightly smaller than American roaches at around 1 ½ inch in length with a dark brown coloration. They prefer cool, damp places such as basements or yards and may also be found near woodpiles, garages, or other outdoor structures which shelter them from heat and cold weather conditions. Oriental roaches tend to feed on decaying organic matter but may enter homes looking for food sources, such as garbage cans left uncovered overnight or pet food dishes left out too long during the day.
No matter what type of roach has invaded your home, taking immediate action is essential for eliminating them before they become an even bigger problem.
At Quik-Kill Pest Eliminators, we specialize in cockroach control services for Streator homeowners. We use a variety of treatments and methods to target the specific type of cockroach that's infesting your home and keep them from coming back. Our team has decades of experience in cockroach control and can eliminate them once and for all. Give us a call today to request a free inspection.
Cockroaches Trigger Allergies And Spread Disease
The sight of a cockroach scurrying across your kitchen floor is enough to make anyone's skin crawl. But beyond the creepy factor, there are many serious issues to consider when it comes to cockroach infestations in Streator homes.
The health risks of an infestation can be very serious. Cockroaches are known for spreading numerous diseases, such as salmonellosis, dysentery, and gastroenteritis. They may also be linked to asthma attacks due to their droppings and shed skins which contain allergens that can trigger an allergic reaction in certain people. Additionally, these pests feed on garbage and decaying matter, which allows them to easily transfer bacteria from one place to another, furthering the risks of disease transmission.
Besides causing a health hazard, cockroaches can also cause considerable damage to your belongings. These pests will chew through cardboard boxes, paper products, clothing, books, furniture upholstery, wallpaper glue, and more. In addition, they have been known to destroy insulation located inside walls by chewing through it in search of food sources or nesting materials. Not only does this create unsightly holes throughout your home, but it can also lead to hefty repair costs down the line.
No one likes dealing with cockroaches, but unfortunately, they are often difficult pests to eliminate. However, keeping your living space clean and hiring a professional pest control company when you spot cockroaches can help reduce the chances of having an infestation take over your house – saving you time, money, and peace of mind in the long run.
Quik-Kill Pest Eliminators can help with all your cockroach control needs in the Streator area. We've been dealing with these pests since 1929, and we know how to get rid of cockroaches in Streator for good. We are committed to providing comprehensive solutions that get to the root of your problem and eliminate the pests for good. Contact us today to schedule a free inspection, and let us help you reclaim your home from these unwelcome visitors.
Factors That Attract Cockroaches Into Your Home
Cockroaches in Streator are one of the most common – and most reviled – pests that invade homes. They can be a nuisance and even pose a health risk, as they spread germs and bacteria. To learn how to deter cockroaches in Streator, it's important to understand what attracts them in the first place.
Let's look at some of the factors that attract cockroaches into your Streator home:
Food Sources: Cockroaches are always on the hunt for food sources. They will seek out any type of food or crumbs that have been left behind, such as spilled food, pet food, and garbage. To prevent cockroaches from coming in search of these food sources, make sure to store all food items tightly sealed and dispose of all garbage regularly. Wipe down all surfaces after every meal and vacuum regularly to pick up any crumbs that may have been left behind.

Moisture: Moisture is another key factor in attracting cockroaches. They need water to survive and will often congregate near areas of moisture, such as sinks, dishwashers, bathtubs, and showers. Make sure to repair any leaks or drips in your plumbing fixtures promptly so that you don't inadvertently create an inviting environment for cockroaches. Additionally, use dehumidifiers or fans to reduce moisture levels in your home if necessary.

Warmth: Cockroaches also like warm temperatures; therefore, they are attracted to areas of your home where it is warm such as near heaters or fireplaces. If possible, try not to leave these appliances running when not in use, as this can help deter cockroaches from entering your home. Also, make sure that all doors and windows are properly sealed so that heat doesn't escape from your home.

Gaps and Cracks: Cockroaches can squeeze through even the smallest of cracks or crevices, so it is important to make sure that any openings are well sealed. Pay particular attention to areas such as baseboards, around pipes, and behind appliances. Seal up any gaps or cracks with caulk or expandable foam insulation to prevent cockroaches from entering your home.
With the right preventative measures, you can keep cockroaches away from your Streator home for good. However, if you do spot signs of a cockroach infestation, don't wait to take action. Contact Quik-Kill Pest Eliminators today to schedule a free inspection and exterminate these unwelcome guests once and for all. We'll work with you to develop a comprehensive plan that will eliminate your cockroach problem safely, quickly, and effectively – guaranteed.
The Best Way To Get Rid Of Cockroaches In Your Home
If you've already noticed signs of cockroaches in your home, then it's best to take action quickly and call a professional pest control service. Trying to eliminate them on your own can be difficult, time-consuming, and ineffective. These pests are resilient and can often come back even after DIY treatments with store-bought cockroach control products.
At Quik-Kill Pest Eliminators, we specialize in cockroach control services for Streator homes. Our experienced technicians are well-versed in the most effective methods of removing these pesky pests, using specialized products and techniques to get the job done right. We also offer preventative maintenance plans to help keep cockroaches away for good.
As a local, family-owned business, we take pride in providing top-notch pest control services to our local community. We understand how important your home is to you, and we'll work hard to make sure it's a safe and comfortable place for you and your family. That's why, as our name implies, we don't just control pest problems – we eliminate them.
With an entomologist on staff, we've kept ahead of the curve with our cockroach elimination services. Our focus is on preventing these pests from coming back, so you can rest assured that your home will stay protected. Contact us today to learn more about our residential and commercial pest control services in Streator and how we can help make your property roach-free.