Common Signs Bed Bugs Leave Behind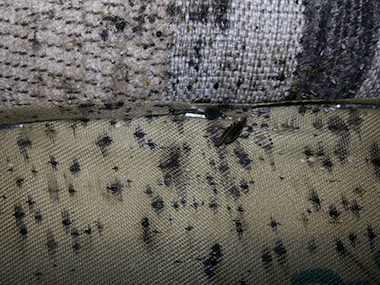 Do you think you might have bed bugs? Have you been on a trip recently and heard that bed bug infestations often occur when people return home from a trip? Do you have college-age kids who came home for the holidays, and made the connection that this is one of the ways bed bug infestations begin? Or is it worse? Have you started getting bites or finding bugs in your home that you think may be bed bugs?
No matter what your situation, the following guide should help you to figure out if you have bed bugs in your home, and give you some helpful advice if you do.
Bed bugs can't help but be bed bugs. Because bed bugs all act the same way, you can expect the following signs to appear in your home if you have a bed bug infestation:
Shed Skins
These insects go through 5 stages of development. As a bed bug passes from one stage to the next, it sheds its skin. This shed skin will appear pale in color if it is shed by a bed bug that has recently hatched from its egg. As a bed bug develops, its shed skins will become more tan in color and eventually brownish red.
Wherever bed bugs infest, you can expect to see shed skins. The larger the infestation, the more skins will be present. They will be clinging to the fabrics of upholstered furniture. They will be littered on the edge of carpets. They will be stuck on mattresses and box spring. They may also be found clinging to sheets, pillowcases, and bedding.
Bed bugs are reclusive insects so the majority of shed skins will be found inside creases, recesses, pockets, holes, between mattresses and box springs, under couch cushions, and other secluded locations.
When you find shed skins, it is likely you'll see other bed bug signs present. The more signs you see, the more likely you are looking at an area of infestation, rather than a location bed bugs have been passing through.
Feces
Bed bugs leave their feces everywhere, especially in locations of infestation. These feces may be seen in several ways. They may appear as streaks on bedding, pillowcases, sheets, mattresses, box springs, bed frames, bed stands, backboards, baseboards, crown molding, outlet covers, upholstery, and more. If you see black streaks in your home, pay close attention.
The feces of bed bugs may look like patches of black matted into the corner of a mattress or around a corner of a piece of furniture. You may also see patches of feces around the stitching of upholstered furniture or the seams of mattresses and box springs. Continuous matted feces are an indication of an infested location. In these areas, there are likely to be other signs of bed bugs.
Sometimes the droppings of bed bugs actually look like droppings. They will be tiny black specks. And these specks will be numerous if they are in an area that bed bugs travel through on a routine basis.
Eggs
Wherever bed bugs infest, you are sure to see eggs. These eggs are about a millimeter in size and may appear as individual eggs or batches of eggs. You can expect to find eggs in tight cracks and creases, or littered about in areas of infestation. Since infestations often begin with a batch of eggs, you may want to look for eggs in luggage, articles of clothing, pocketbooks, and other items you carry on a trip.
Blood Stains
When bed bugs excrete feces, they often excrete blood as well. This leads to blood staining. When stains are found, it is usually after blood has dried and become a tan color or a brown color. This leads some to believe that this is bed bug urine, but bed bugs don't urinate. Look for this staining on sheets, pillowcases, and bedding, as well as any hidden location listed above.
Practical Bed Bug Advice
If you see evidence of bed bugs in your home, we strongly recommend that you don't take matters into your own hands. Bed bugs have been dwelling with humans since the dawn of time. They know how to avoid our attempts at exterminating them. The only way to arrest a bed bug infestation is to be smarter than the bed bugs.
For smart bed bug control and elimination in Illinois, reach out to the bed bug experts at Quik-Kill Pest Eliminators. Our experienced and educated pest professionals are standing ready to assist you. Contact us today!