Help! I Can't Keep Rodents Out Of My Streator Home!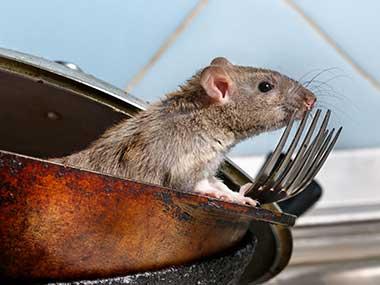 Of all the pests in Streator, rodents may just be the most despised and it's not hard to understand why. Rodent infestations can be seemingly impossible to control and prevent. These pests are tenacious in their efforts to get and stay inside of Streator homes. Common rodents in our area include:
House mice: Unsurprisingly, house mice get their name as the most common species of mouse living indoors, however many nest outdoors as well, especially in the warmer months. Adult house mice grow to be up to 2 to 4 inches long, not including their long tails. They tend to have black, gray, or brown fur with tan-colored bellies.
Deer mice: These mice are slightly larger than house mice and can grow up to 4 inches long, not including their tails. They have pale gray to deep reddish-brown fur with white underbellies. While they typically live outdoors, they sometimes invade buildings in colder months, tending to stick to less frequented areas like basements, sheds, and vehicles.
Meadow voles: These voles look a lot like mice and are a similar size. They are most often found living outdoors but can occasionally make their way inside and become a nuisance.
Norway rats: A larger pest, Norway rats grow to be almost 10 inches long with an additional 6 to 8 inches of tail. They have brown coats with black hair and most often invade the first floor of structures including basements and crawl spaces.
If you have rodents in your home in Streator, they are most likely one of these species unless a wayward squirrel has made its way inside.
Dangers Of Rodents
The scratching inside the walls can be annoying, but it's really the risks that rodents bring with them that keep people up at night. Because their teeth grow continuously throughout their lives, rodents must chew constantly to prevent them from getting too long. This means that once rodents move in, there is nothing safe in your home. From drywall to beams to electrical wires or plumbing and furniture, there is no end to the places you may find chewed through.
In addition to damaging your property, rodents carry significant health risks such as hantavirus, tularemia, salmonellosis, and leptospirosis. They also are hosts to various parasites like fleas and ticks that present their own host of health-related issues. The urine and feces that mice leave behind can cause allergies and asthma reactions, and they contaminate both stored food as well as food preparation areas.
Why And How Rodents Invade Streator Homes
There's nothing new about waging a battle against rodents. They have a long history of depending on humans as sources of food, water, and shelter. Taking these resources directly from our kitchens is much easier than finding them in nature, but keeping rodents out of our homes is easier said than done. Mice can fit through a hole the size of a dime or a gap as wide as a pen. Rats only need a slightly larger opening and either species is happy to use their chewing skills to widen any existing imperfection.
Getting Rid Of Rodents
The second a rodent is spotted in any home, there is an immediate rush to eliminate it and often this means a quick trip to the store for a mousetrap. The problem with DIY treatments, though, is that they often are not effective against the entire population. Mice and rats are crafty animals and do not often show themselves in the open. They also reproduce at some alarming rates, so it is rarely ever an issue of just one or two invading your home.
Store-bought pesticides are often not very effective and can be dangerous to children and pets when used incorrectly. Traps and baits can seem as though they are working, but populations are likely growing inside the walls or crawl spaces so each individual that is caught has likely already been replaced. The safest and most effective way to get rid of rodents is to contact the professionals at Quik-Kill Pest Eliminators.
Rodent Prevention
Often it is easier to prevent pests before they make their way inside. You can minimize your risks of a rodent infestation by taking the following steps:
Eliminate gaps and holes in the exterior foundation and walls rodents could use as entry points using silicone-based caulk or steel wool.

Install weather stripping and door sweeps to prevent entry.

Limit both indoor and outdoor clutter as rodents can use it for cover.

Store food in covered containers and clean surfaces to eliminate crumbs and other sources of food.

Keep attics and basements well ventilated and dry.

Maintain plumbing and drainage to minimize excess moisture.

Invest in professional assistance.
At Quik-Kill Pest Eliminators, we can both rid your home of existing infestations as well as make sure one never starts. Call today to find out more about our rodent control options.