House Spiders In Streator: Learn the Facts!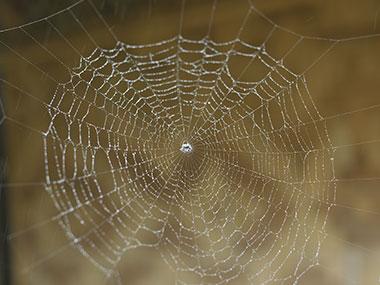 Do you know that when you see a spider in your
Streator
home, it may not be a house spider? It's true—just like finding a bug in your bed doesn't make it a bed bug. Okay. So, what is a house spider? The spiders that are considered house spiders are spiders that can acclimate to indoor living. These are the spiders we're going to take a look at today. If you live in Streator and you've wanted to know why you see spiders in your home, what those spiders are doing in your home, and how to get rid of spiders, we have some good news; that's what we're talking about today! But if you need immediate assistance with a spider problem, hop over to our contact page and drop us a line.
Why are there so many spiders in my house?
This is a good place to start. House spiders in Illinois get inside homes all the time. You may see a spider because it just got inside or you might be seeing it because it is a common house spider making an appearance out in the open. What is the difference? An outdoor spider is going to go back outside. Outdoor spiders need damp conditions that aren't found in your home. Common house spiders tend to need less moisture. Here are a few reasons you may see common house spiders more often.
Spider sightings often increase when spiders run out of resources in hidden places, such as wall voids, attic voids, and basement areas.

You might see spiders during their mating season. This will bring them out of hiding.

You might see spiders more often if you have a food source in your common areas, such as fruit flies, fungus gnats, phorid flies, house flies, cluster flies, etc.
Why Do Spiders Get Inside?
Spiders go where food can be found. Spiders that feed on fruit flies, as an example, may be much happier in your home—particularly when fruit flies become a problem. It is difficult for a spider to find lots of fruit flies in one place outside. A spider that likes to eat truckloads of fruit flies is the American house spider. This is the most common house spider in Streator. Other common house spiders, like daddy longlegs spiders, jumping spiders, and yellow sac spiders, also like tiny flies like the fruit fly. They also like many other common household insects. This is why they get inside your home.
How To Get Rid Of Spiders
You can naturally deter spider activity in your home by managing food sources, water sources, and entry points. We're going to break these down into three categories: Insect management, moisture control, and exclusions.
Insect Management
When you address the things that attract insects, you deter spiders as well.
Reduce exterior light to reduce insect activity. You may also replace white light bulbs with bulbs that cast yellow light.

Keep all garbage in covered receptacles and make sure to get your receptacles to the curb each week. If a receptacle starts to stink, clean and deodorize it.

Pick up pet waste in your yard.

Properly mix compost.

Keep the interior of your home clean.

Don't leave food on the counter, uncovered.

Remove your interior trash routinely and keep your receptacles as clean as possible.

Clean recycling well.

Store fruit in the fridge.

Keep your pantry foods in sealed containers.
Moisture Management
Spiders, and also the insects that spiders eat, are drawn to moist habitats. It is essential to reduce moisture on the outside and inside of your home if you hope to reduce spider activity.
Clean your gutters and remove debris that is blocking rainwater from channeling down and away from your exterior.

Remove unnecessary vegetation from your landscaping to cut down on moisture and humidity.

Repair plumbing issues on the exterior and interior of your home.

Install dehumidifiers or ventilation in areas of your home that tend to stay humid.

Yard debris, such as leaf litter, can trap moisture. Remove leaves as soon as possible.
Exclusions
If a house spider can get into your home, it will. House spiders like it inside your home.
Use these tips to exclude these spiders from your home. You'll also have the side benefit of keeping insects out as well.

Repair or replace weatherstripping, door sweeps, damaged door or window frames, and ventilation covers.

Repair damaged window and door screens and replace screens that have bent frames.

Seal gaps around window and door frames, plumbing, wire conduits, and other foundation penetrations.

Repair rotting wood or apply a product to seal gaps.
The Best Way To Control Spiders
If you've been wondering, "Why are there so many spiders in my house?" now you know. So, what can you do about them? If you're seeing spiders in your home more often than you'd like, and you live in Streator, reach out to Quik-Kill Pest Eliminators for spider control. We use industry-leading control solutions to get spiders out and keep them out. We are here to help you with all your pest control needs. Connect with us today if you're dealing with spiders in Illinois. We can help.