How Ants Break Into Streator Homes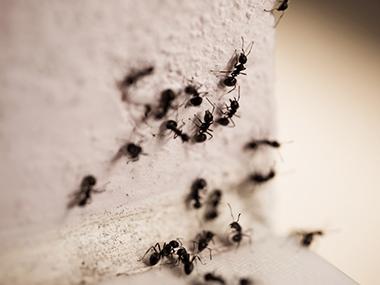 Have you noticed that we have ants in Streator? They're all over the place. And because each species of ant has slight differences in biology and the ways they behave, they can be difficult to treat if you are uncertain of which ant you're dealing with. Some prefer meats, some prefer sweets. Some split into multiple colonies when they feel threatened, some don't. Proper identification is key -- but how can you properly identify them when there are over 700 ant species in the United States?
Educated an experienced pest professionals group species into classifications and are able to identify ants by their class. Across Illinois, Iowa, and the Quad Cities, the most common types of ants that break into our homes are pavement ants, odorous house ants, Argentine ants, acrobat ants, citronella ants, pharaoh ants, thief ants, small honey ants, and carpenter ants. While the treatments for these ants vary by type, they all get into our homes the same ways, with carpenter ants being a slight exception. Let's look at these ways and talk about how you can protect your Streator home from both pest ants and wood-damaging carpenter ants.
Ant Entry Points
All ants get into our homes using openings only available to them due to their small size. Even the smallest cracks, gaps, and holes are enough for them to gain entry, and if they wind a way inside, rest assured that they will take it -- and leave pheromone trails so that all their friends can follow. Even carpenter ants generally get into your home in this way.
If you're concerned about ants making their way into your home, here are some vulnerabilities you should consider sealing:
Gaps around doors: Damaged or missing door sweeps are notorious for allowing ants to enter our homes. Inspect the door sweeps on your exterior doors and ensure that they make good contact all the way across.
Gaps in weatherstripping: We all know how important it is to have weatherstripping around our doors. Those rubber strips create a seal when doors close. But this seal can become broken when gaps form. If you have a drafty door in the winter, it is likely you have entry points for ants in the spring, summer, and fall.
Holes created by rodents, carpenter ants, and other pests: There are many locations on your home that can be chewed on by pest creatures. These holes can usually be found in areas where moisture has softened the wood of your home. They can also be found at the bottom of exterior doors. Rodents can chew through your door sweeps, weather stripping, door frames, and the seal around your door frames.
Gaps around pipes: If you know anything about the installation of pipes, you now that working with plumbing is hard. Getting the angles perfect can be difficult. For this reason, there is usually a good-sized gap around pipes that go through your foundation wall. If this gap is not properly sealed or the seal is damaged, that gap is going to make the perfect entry point for ants.
Cracks in foundation walls: Expansion and contraction can do quite a number on a foundation wall. When cracks begin to appear, ants will take advantage of them. Check the foundation wall around your exterior as well as your interior to detect cracks or ant activity.
Damaged timbers: The older your home is the more likely you are to have damaged wood. If your sills are damaged, this can create a serious vulnerability. Your sills (also called sole plates) are the horizontal timbers attached to your foundation. These are what your horizontal studs are attached to. When water and fungal spores create rot, pests take advantage of the softened wood and tunnel into it. It can be difficult to inspect your sill. It might be covered by siding and impossible to see in a finished basement.
Carpenter Ants
As mentioned above, in addition to taking advantage of already-entry points, carpenter ants can create their own entrances by chewing tunnels into the wood of your home. Once inside, these pests can wreak havoc and cause serious damage to any wooden areas around your home they come across.
You can work to prevent this by reducing moisture around your home and by eliminating any wood resources in your home's immediate proximity that could attract them. Move firewood or construction materials away from your home. Remove sticks, leaves, and other organic debris. Replace wood flower bed borders with stone.
How Residential Pest Control Fits Into The Picture
Residential pest control programs like Home Guardian Plus from Quik-Kill Pest Eliminators, offer coverage for ants while they protect you from significant pest threats such as termites, rodents, spiders, and bed bugs. If you don't have a residential pest control plan for your home, let the team at Quik-Kill help. We service Streator and the surrounding area with industry-leading pest control. Get started with a free, no-obligation pest inspection.