How To Tell If Your Peoria Home Has A Mouse Infestation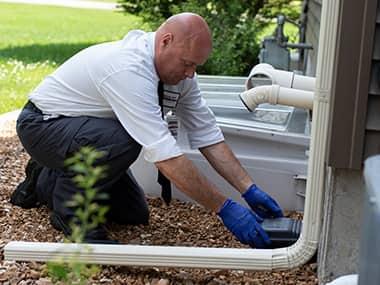 Do you have a mouse in the house? Would you know it if you did? Many people don't realize they have a mouse infestation at first. Mice are sneaky, not squeaky. If you're thinking that you'll hear them squeaking in your walls, you may want to think again. They can emit a squeak that is too high for you to hear. You're also not likely to hear them bumping and scraping in the walls. It is rare for mice to make noises even when they think they are in a safe location. But there are ways to detect them. Let's take a look at a few of the most important ones.
Mouse Droppings
Sneaky mice leave not-so-sneaky feces everywhere they go. If you open a cabinet and find tiny black pellets littered about, you probably have a mouse infestation. Inspect those pellets to see if they're fresh. Fresh droppings will be black, not grey. And they will be moist, not dry. Another easy way to see if your infestation is current and active is to clean the droppings up and check later to see if you have more. Here are some places you can find mouse droppings:
Mice commonly leave their droppings in the cabinet under the sink. This is because many sinks have unfinished woodwork. Gaps and holes around pipes give mice quick access to this secluded space.
In the back of drawers. Many drawers can be accessed from behind. Mice don't open your drawers up, leave their droppings, and then close them. They jump down into them from behind, search around for food and then exit the way they got in.
Anywhere in your home that has insulation is a good place to look for rodent droppings. As mice climb through insulation or nest in it, their droppings get stuck to it.
Mouse Holes
Mice are rodents. That means, like all rodents, they chew constantly to file down their front teeth. So you can expect them to chew on your property when they come into your yard and get into your home. When they do, those holes will be the warning sign you need to prevent mice from doing extensive damage, or worse, from burning your home down by chewing through a live wire. Here are some places to look for mouse holes:
Mice chew on several common points on the outside of homes. Inspect your door sweeps and weatherstripping for chewed gaps. Inspect your door and window frames for gnawed holes. Look for holes in your window and door screens, and inspect the seal around pipes and wire conduits.
Mice chew on cardboard containers. If you find cereal all over your pantry shelf, mice could be to blame.
Mice chew on baseboards. Mice chew holes low to the floor to go from wall voids to food-storage areas.
Mouse Nests
When mice get into a home they make a home within the home. They'll chew up insulation, wallpaper, fabrics, and other soft materials to makes these nests. Doing a search for nests inside your home can help you figure out whether or not you have an active infestation. Here are some places to look for mouse nests:
Attics
We don't know what you're attic looks like but there is a good chance it is the perfect location for a mouse. Mice love warmth and they love to hide in secluded places. Look for soft, matted down materials that are speckled with droppings.
Stored boxes or stored furniture
When mice hide in attics or storage rooms, they will get inside cardboard boxes or furniture that has been stored away for safekeeping.
Dropped ceilings
The void above your dropped ceiling may be where those mice are hiding. Push a few tiles up and take a peek with a flashlight.
Wall voids
This is a common nesting location but it isn't one you can easily take a look into.
When Warning Signs Appear
If you have a mouse problem, remember that Quik-Kill Pest Eliminators can save you time, money, and hassle by locating and eliminating those troublesome pests. Reach out to us for immediate assistance and pest control plans that work!