Peoria Property Owners' Complete Termite Control Guide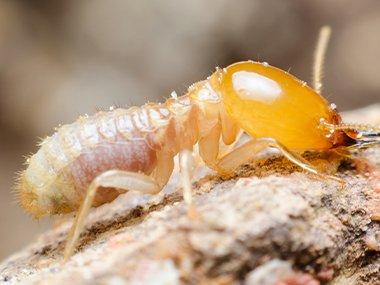 With soft bodies and straight antennae, termites may get their nickname "Silent Destroyers" from the way they cause structural damage undetected, but these pests aren't just destructive – they're also beneficial for the environment as well. Termites help out our eco-systems in a couple of different ways.
First, they're huge soil engineers. Termites dig tiny holes into the soil, which allows water to seep through whenever it rains, and prevent soil erosion. They're also essential for plant life. In forests and woods, termites allow new plants to grow by feeding on dead leaves and trees and creating space for new life.
Besides how they benefit the environment, termites are also considered a delicacy in certain parts of the world – head to cities in Asia or Africa and you may find termites on the menu.
Still, while many termites may do wonders for the ecosystem or look great on a plate, that doesn't mean you want them in your home. Here's what Peoria homeowners should know about the signs of a termite infestation, why getting rid of them on your own won't work, and the best way to handle a termite infestation.
Signs Of A Termite Problem In Peoria, IL
There's a reason why termites get called the "Silent Destroyers" by homeowners. While there are plenty of signs you can spot of a termite infestation, these signs also tend to be subtle, and homeowners may go months before noticing them.
Some examples include:
Your drywall looks like it's drooping or there appears to be some discoloration that's developed.

When you tap wooden walls or step on wooden flooring, it sounds hollow.

The paint on your wall begins to start peeling and seems like there may even be water damage.

You're noticing an actual swarm of termites in or around your home.

You're noticing tiny, pinprick-sized holes in your drywall.

Around the foundation of your home and outside, there are tiny mud tubes.

Excess moisture from the termites creates buckling in laminate or wooden flooring.

After the termite swarm, you notice discarded wings lying around your home, especially near entry-points.

The tile or wooden flooring in your home begins to feel "loose" when you step on it due to excess moisture.

Around your home, there are tiny drywood pellets, which look like specks of salt and pepper.

Your floorboards suddenly begin to sound squeaky whenever you walk on them.

When you inspect your walls, furniture, or flooring, you notice hollow, maze-like patterns that run through the wood.

Your windows and doors begin to get stuck frequently.

Wooden walls or furniture begins to show signs of damage.
While it may seem like there are a lot of signs that come with a termite infestation, they happen so gradually they often go unnoticed. And by the time you do notice these pests, the structural damage they've caused could be permanent.
For this reason, it's a good idea to get annual inspections – not only can a professional spot the subtle signs of a termite infestation but having them done annually is a great way to catch termites before the infestation has really taken root.
Why DIY Termite Treatments Don't Work In Peoria, IL
When they do notice a termite infestation, a homeowner's first instinct may be to handle the problem on their own. While there are plenty of DIY termite treatments or solutions that promise results, these methods are rarely effective.
A lot of people aim to solve the problem with OTC termiticides or termite baits.
Termiticides kill termites that they come in contact with, but unless you can find the source of the colony (or colonies) in your home, these products won't completely wipe out the infestation.
Termite bait traps have a similar shortcoming. While the idea is that these traps contain toxins that slowly kill termites and spread to the rest of the colony, they don't always kill termite eggs.
The Most Effective Form Of Termite Control In Peoria, IL
Most of the time, trying to deal with termites on your own just creates a recipe for these pests to keep causing damage. The most effective form of termite control in Peoria is a professional one – like those of us at Quik-Kill Pest Eliminators.
Our experienced professionals can spot the signs of a termite infestation, find the root of the problem, and eliminate these invaders from your home permanently. If you know you've got termites or you've begun to notice a few signs of them, don't hesitate to call us at Quik-Kill Pest Eliminators today to schedule an inspection or learn more.