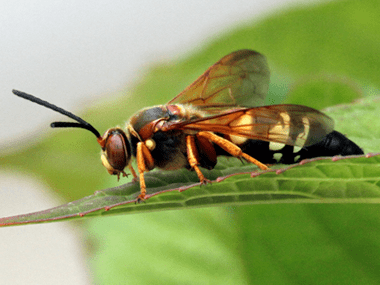 These wasps, known scientifically as Vespa crabro, go by many names. They may be called cicada killers, cicada hawks, the Eastern cicada killers, or cicada killer wasps. Regardless of what you call them, these are solitary wasps that belong to the family crabronidae. If you don't know what it means for an insect to be in the family crabronidae, you're not alone. This family of insect is classified by the fact that they hunt cicadas as their primary prey, and of all the species in the family crabronidae, the Eastern cicada killer wasp is dominant in North America.
The cicada killer is one of the largest wasps you'll see here in the United States. For this reason, it is sometimes mistaken for another large, stinging insect: the European hornet (Vespa crabro). A cicada killer wasp can be as long as 2 inches, while European hornets are typically about one inch. These two insects can also appear somewhat similar in their sharp contrast of yellow and black coloring but the yellow of a cicada killer is paler in tone.
Are Cicada Killer Wasps Dangerous?
If you're a cicada, they are very dangerous. But humans don't have too much to worry about, as long as there is no accidental contact. Male cicada killers do not have the ability to sting humans, and female cicada killers are too busy with cicadas to pay attention to humans. Females do, however, have a significant stinger, which they plunge deep into cicada bugs. This is definitely not a stinger you would want them to plunge into your skin. Fortunately, cicada killers don't swarm, and they are not aggressive about guarding their nests, like yellow jackets or paper wasps.
Danger comes in many forms. And, while cicada killers are not a significant stinging threat, they are destructive pests. When they tunnel in the ground, they can damage root systems and displace large amounts of dirt. If you've worked hard on your lawn, this can be quite frustrating. It can also be frustrating when these insects start tunneling in your children's sandbox or digging up the plants on your patio.
Some people worry about their pets being stung by these giant wasps. This can happen, but it will be the curiosity of your pet that will lead to a sting. This is likely to happen only once.
Cicada Killer Wasp Prevention
These wasps are attracted to bare patches in your yard. If you have spots where grass isn't filling in, you'll want to address them, especially if you've seen cicada killers flying around in your yard. Beyond this, there isn't a lot a property owner can do to control cicada killer wasps without resorting to chemicals, which can be harmful to the environment and dangerous to humans and pets when applied improperly.
Pest Service For Cicada Killer Wasps
When it comes to dealing with cicada killers, or any stinging pest on your property, it is best to call a professional pest control technician. This is especially true of cicada killer wasps. While these wasps are definitely intimidating, they serve an important role; they kill cicada bugs. We actually need these wasps to keep cicada bug populations from growing out of control. So, while it is important to keep them out of your yard, it should be done in a way that allows cicada killers to keep doing their job.
Your Quik-kill pest control technician is educated and certified in industry-leading pest protocols. You can expect a professional and detailed inspection of pest pressures, actionable data, and a clear list of options to resolve your issue. You can also expect that your pest control technician will give you options that are least toxic or entirely eco-friendly and in line with modern Integrated Pest Management practices. If you chose, you can also have routine visits from your pest control technician to monitor for cicada killer activity and maintain a pest control plan that continues to keep your lawn and your family protected.
For more information about Eastern cicada killer wasps, or to schedule a free inspection with a knowledgeable pest professional, reach out to us. The team here at Quik-Kill is looking forward to serving you. Contact us today!